Canada Trims Pipeline Reviews as Oil Patch Says Details Missing
by Bloomberg
|
K. Orland, G. Quinn & J. Wingrove
|
Thursday, February 08, 2018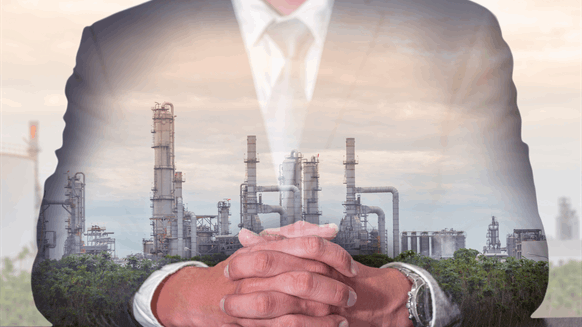 Justin Trudeau is trying to make the oil industry's life a little easier.
(Bloomberg) -- Justin Trudeau is trying to make the oil industry's life a little easier by streamlining project reviews that have plagued one of the most vital sectors in the Canadian economy -- while also adding new hurdles and saying more could come.
The prime minister's government unveiled new rules for environmental and regulatory approvals of pipelines and other major projects on Thursday, pledging investors will get more certainty and shorter timelines. At the same time, it toughened some environmental standards, said it would consider climate-change impacts and opened the door to potentially require federal reviews of a wider range of oil facilities.
Two prominent industry groups welcomed parts of the proposal while warning several essential details remain unclear and could deter, or at least not attract, new investment to the sector. The Canadian government estimates C$500 billion ($397 billion) of investment in major domestic resource projects is coming over the next decade.
"It's pretty sweeping, and we're still concerned that this is not going to create the certainty that we need," said Chris Bloomer, chief executive officer of the Canadian Energy Pipeline Association. One of the uncertainties is how climate change emissions will impact project evaluations. "It's introduced a whole bunch of broad public policy issues into the evaluation process and we need to understand how this is all going to mesh."
More detail is needed "to ensure we are in fact getting more of a streamlined process" and to clear up other parts of the plan, added Tim McMillan, president of the Canadian Association of Petroleum Producers, another major industry group.
Shorter Reviews
The government will replace the existing system with a pair of agencies and shorten maximum review times to 600 days from 720 days. It will also revise the list of projects that require review, after an expert panel heard calls to include in-situ oil-sands mines and fracking.
The Canadian Energy Regulator will replace the National Energy Board, while the government will adopt a one-project, one-review approach to conduct assessments of the impact on the environment, indigenous peoples' rights and other factors.
"Ensuring more timely and predictable project reviews will attract investment and development that creates good, middle-class jobs for Canadians," Environment Minister Catherine McKenna said Thursday in Ottawa.
Analysts don't see the measures having a big impact. "We do not think that any of the changes should materially impact the share prices for the companies that have projects that will be reviewed by the CER," Robert Kwan at RBC Dominion Securities Inc. said in a note to investors. Canaccord Genuity Corp.'s David Galison said the proposal is neutral "in the near term for the Canadian midstream sector."
The move was cast as an effort to ease uncertainty and legal delays that have dogged projects like Kinder Morgan Inc.'s Trans Mountain pipeline expansion, whose challenges have spiraled into a trade war between British Columbia and Alberta even after Trudeau's government gave it the go-ahead.
But while Trans Mountain has become emblematic of how difficult it can be to approve big energy projects in Canada, it's not affected by the new regime. Projects under review already will continue under the current rules until the new legislation is passed by Parliament -- and the government won't reverse any decisions it has already made.
Oil Sands
Whether in-situ oil sands mines will be subject to federal review depends on the outcome of a consultation and their location. The government is considering exempting them so long as the province has a "hard cap" on emissions. Alberta currently has one but an election next year could change it; Saskatchewan doesn't have one.
In-situ mines "could be added to the Project List due to potential effects on areas of federal jurisdiction, in particular greenhouse gas emissions, but exempted from federal assessment where a jurisdiction has in place a hard cap on greenhouse gas emissions," the government said in a consultation paper released in Thursday's announcement.
That's one area where the oil sector needs more detail, McMillan said.
1
2
View Full Article
Generated by readers, the comments included herein do not reflect the views and opinions of Rigzone. All comments are subject to editorial review. Off-topic, inappropriate or insulting comments will be removed.