Biden Jobs Assurances Backfire with Oil and Mining Workers
by Bloomberg
|
Jennifer A Dlouhy, Ari Natter
|
Tuesday, February 16, 2021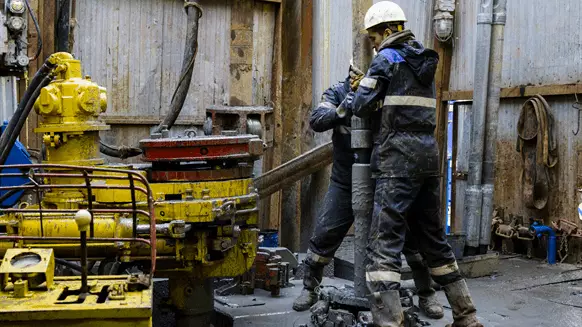 The Biden administration has gotten off to a rough start trying to reassure coal miners and oil workers whose jobs are threatened by the president's fight against climate change.
"What are our choices? They keep saying we have choices, but what are they?" Jerry said through a thick Louisiana accent. "Are we just supposed to lift our whole livelihood and move because they want to buy oil from outside the United States?"
Jerry, who has been fabricating fittings and parts for offshore facilities for 25 years, said the work comes with a good wage and retirement benefits, enabling him to pay tuition for one child in college and two others in private school.
"It's not as easy as just going to get another job. You have a family to support," he said. "When you're used to making 25, 35 dollars an hour and have to take a pay cut to 10 to 12 what does that do to the food on your table? What does that mean to your kids?"
Kerry's comments have drawn particular ire because of a report that he flew in a private jet to Iceland two years ago to accept an award for his work against global warming.
"When John Kerry and Biden say those kind of things, they have just written off most of the country," Earl Sebring, whose two-person exploration company drills for oil in the prolific Permian Basin spanning west Texas and eastern New Mexico. "It's easy for John Kerry to say, when he's getting off his private jet, things like 'they will have better choices.' That's fine for someone who has never worked a day in his life, but the entire Permian Basin is based on oil and gas."
The focus on Kerry's use of a private plane is a distraction, according to the climate envoy's allies.
"As a private citizen, John Kerry took responsible steps to reduce and manage his carbon footprint," including using solar power and electric vehicles said David Wade, who was chief of staff during Kerry's tenure as secretary of state. "And on the very rare occasion when he flies a private flight, he buys carbon offsets."
Biden climate adviser Gina McCarthy tried to address the concern over jobs at the Jan. 27 White House briefing at which Kerry spoke.
"We're not going to ask people to go from the middle of Ohio or Pennsylvania and ship out to the coast to have solar jobs," McCarthy said. "Solar jobs will be everywhere, but we need to put people to work in their own communities."
That message may have been undermined the next day by a slip of the tongue when Harris touted new opportunities for skilled coal workers during an interview with West Virginia's WSAZ. New jobs could include plugging oil wells and "reclaiming abandoned land mines," Harris said.
Gaffes and tone-deaf remarks on the issue carry political risk. Hillary Clinton learned this firsthand in 2016, when the former Democratic presidential nominee volunteered, "We're going to put a lot of coal miners and coal companies out of business" -- a candid, if poorly phrased, assessment of the industry's economic decline that haunted her on the campaign trail.
By contrast, her Republican opponent, former President Donald Trump, set out to woo votes from coal country. He pantomimed digging coal on stage and told hard-hat-wearing workers at one rally to "Get ready, because you are going to be working your asses off."
Ultimately, Trump's campaign promises didn't lead to an industry resurgence. The U.S. had about 47,400 mining jobs as of January 2020, before the Covid pandemic crushed more of them -- about 7% fewer than when Trump was inaugurated in January 2016.
That's a far cry from the 863,000 miners that were using pickaxes, shovels and blast powder to carve coal from mostly subterranean seams in 1923, the heyday for the industry's employment in the U.S. But as the industry grew more automated, longwall machines and conveyors run by just a few workers replaced hand tools and the multitudes of miners once needed to wield them. Now, increased efficiency along with dropping power sector demand for coal means the industry is in decline regardless of federal policy.
1
2
3
View Full Article
Generated by readers, the comments included herein do not reflect the views and opinions of Rigzone. All comments are subject to editorial review. Off-topic, inappropriate or insulting comments will be removed.