Aramco Taps into US Shale Gas Boom
by Bloomberg
|
Anthony DiPaola
|
Wednesday, May 22, 2019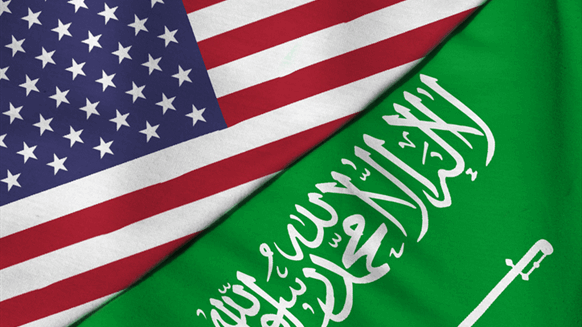 Saudi Aramco agrees to a buy a stake in Sempra Energy's Texas LNG export terminal.
(Bloomberg) -- Saudi Aramco agreed to a buy a stake in Sempra Energy's Texas LNG export terminal, giving the world's biggest oil exporter a foothold in the fast-growing global gas trade.
The proposed deal, which also includes an agreement to buy gas from the plant, would mark Aramco's first entry into production of oil or gas outside Saudi Arabia. Aramco can potentially ship the LNG home to the kingdom's power plants or trade it globally. The state-owned company and Sempra signed a preliminary agreement to acquire a 25% stake in the plant, but didn't disclose the value of the potential deal.
A recent transaction could give a guideline for what the deal is worth. France's Total SA paid about $1.5 billion for the LNG assets of utility Engie SA, which included shares in Sempra's Cameron LNG plant in the U.S.
Saudi Arabia is tapping into the U.S. shale revolution, joining a wave of LNG exporters that will primarily ship the fuel to buyers in Europe and Asia. Sempra itself is working on five projects. Both the U.S. and Australia could overtake Qatar as the world's biggest LNG supplier in coming years.
Aramco sees annual demand for LNG rising about 4% a year and reaching 500 million metric tons a year by 2035. Global demand for LNG, which is gas that is super-chilled until it turns to liquid and can be transported by tankers, was 324 million tons last year according to BloombergNEF.
Saudi Arabian Oil Co., as Aramco is officially known, would buy 5 million tons of LNG a year from Sempra over 20 years if the deal is completed, the companies said in a statement. The gas will be produced from Phase 1 of Sempra's Port Arthur LNG project. The companies also agreed to negotiate Aramco's purchase of a 25% stake in that phase.
The agreement "is a major step forward in Saudi Aramco's long term strategy to become a leading global LNG player," Chief Executive Officer Amin Nasser said in a statement. "We will continue to pursue strategic partnerships which enable us to meet rising global demand for LNG."
In a region richly endowed with hydrocarbons, Aramco has struggled to build its gas business fast enough to keep pace with surging domestic demand. Past joint ventures with companies like Royal Dutch Shell Plc, Eni SpA and Lukoil PJSC found gas in the kingdom's vast Rub al Khali desert, known as the Empty Quarter, but it was too expensive to develop.
That forced Nasser to adapt the company's strategy, exploring for shale at home and seeking acquisitions abroad. Aramco traded its first LNG cargo in March and said it's seeking gas resources in the U.S., Russia and Australia, and it began producing gas from shale deposits in the kingdom last year.
Pushing into gas adds to the rivalry between Saudi Arabia and its regional foes Iran and Qatar. Iran holds reserves second only to Russia's, but sanctions and lack of investment stymied its export plans. Qatar is the world's biggest LNG exporter and is a partner with Exxon Mobil Corp. in a $10 billion plant in Texas, and has plans to pour a total of $20 billion into U.S. oil and gas fields.
--With assistance from Javier Blas and Verity Ratcliffe.
To contact the reporter on this story:
Anthony DiPaola in Dubai at adipaola@bloomberg.net
To contact the editors responsible for this story:
Nayla Razzouk at nrazzouk2@bloomberg.net
Mohammed Aly Sergie, Amanda Jordan