Apache Tumbles on 'Incredibly Thin' Suriname Well Results
by Bloomberg
|
Rachel Adams-Heard & Simon Casey
|
Monday, December 02, 2019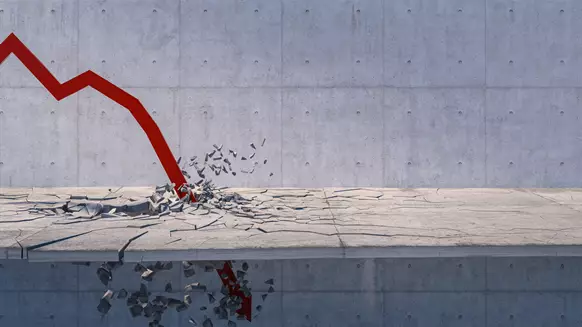 Apache Corp. plunges after the company's update on a closely watched exploratory oil well off the coast of Suriname offered little indication as to whether it will be commercially viable.
(Bloomberg) -- Apache Corp. tumbled after the company's update on a closely watched exploratory oil well off the coast of Suriname offered little indication as to whether it will be commercially viable.
Tests were carried out on the Maka-1 well after it reached a depth of about 6,200 meters (20,300 feet), the Houston-based company said Monday. After those tests are completed, the company will resume drilling in mid-December "to evaluate a third play type" at a new target depth of about 6,900 meters.
But going for a third zone could indicate that the first two were unsuccessful, said Leo Mariani, an analyst at KeyBanc Capital Markets. "There's no color," he said of the update. "Typically we'd have something like, 'We found oil' or 'We found gas.' It was just incredibly thin."
Apache shares and bonds dropped on the news. The company's stock pared earlier losses but continued to trade down 13% to $19.45 a share at 11:35 a.m. in New York, the lowest since 2001. Five-year senior credit-default-swaps widened 21 basis points, the most since April 2016, according to data provider CMA.
Apache's Suriname exploration is adjacent to an Exxon Mobil Corp. discovery that's one of the world's biggest finds in years, but investors have been anxious about the viability of the project ever since the company's high-profile geologist unexpectedly resigned in October. That sank Apache shares and bonds, though they later recovered after Chief Executive Officer John Christmann said on a conference call that the company hadn't "seen anything that would be unexpected" from its exploratory well.
Still, some analysts have been skeptical. In October, Morgan Stanley's Devin McDermott put the odds that Maka-1 will show no commercial oil resource or a low gas discovery at 80%.
The next update on the Maka-1 well may not come until January, Mizuho's Paul Sankey said in a note to clients. "This is hardly the champagne cork moment that was potentially at play here," he said, "but then again nor is this firmly a dry hole."
What Bloomberg Intelligence says:
Disclosure that drilling, which began in September, will continue to a deeper zone is cause for even greater concern, in our view. Suggesting it was confident about its portfolio even without Suriname implies less confidence in the project.
Vincent Piazza, senior analyst, U.S. oil and gas
Unlike most offshore exploration ventures, Apache holds 100% of the working interest on Block 58 offshore Suriname, where the Maka-1 well is being drilled. Hess Corp., for example, has just a 30% interest in the Stabroek Block offshore Guyana. That leaves Apache and its shareholders more exposed to the long-awaited results.
Maka-1 is "among the most anticipated wells in the world," analysts at Tudor, Pickering, Holt & Co. said in a note Monday. "While we appreciate the desire to test multiple play concepts given promotion of the vast potential of this block, releasing the first update without any color on the results of the first two tests will not be taken well by the market."
To contact the reporters on this story:
Rachel Adams-Heard in Houston at radamsheard@bloomberg.net;
Simon Casey in New York at scasey4@bloomberg.net
To contact the editors responsible for this story:
Simon Casey at scasey4@bloomberg.net
Reg Gale, Carlos Caminada
Generated by readers, the comments included herein do not reflect the views and opinions of Rigzone. All comments are subject to editorial review. Off-topic, inappropriate or insulting comments will be removed.