Alberta Eyes Payback from US
by Bloomberg
|
Robert Tuttle
|
Friday, February 05, 2021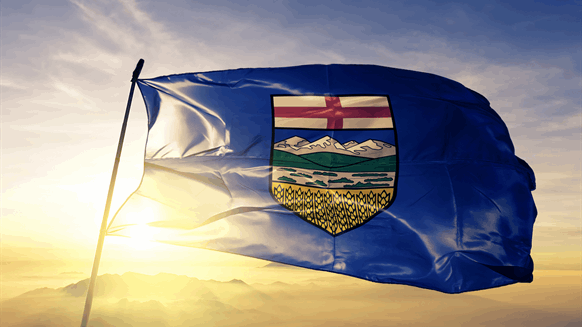 The oil-rich Canadian province is considering seeking compensation from the US through an old free-trade rule that's still in place.
(Bloomberg) -- The oil-rich Canadian province that was hit hard by Joe Biden's move to kill the Keystone XL pipeline is considering seeking compensation from the U.S. through an old free-trade rule that's still in place.
Alberta, which spent C$1.5 billion ($1.2 billion) to help jump start construction of the project, may resort to a North American Free Trade Agreement provision allowing compensation claims for lost investments, Alberta Premier Jason Kenney said. While Nafta was replaced by the United States-Mexico-Canada Agreement during the Trump administration, the rule remains in place during a phase-out period.
To "retroactively remove regulatory approval on the basis of which an investment was made is, in my view, a slam dunk case of a claim for damages through Nafta under the investor protection provisions," Kenney said on a Facebook live Tuesday. "We believe we have a very strong case for damages, and we'll be continuing to work with TC Energy on that."
The pipeline cancellation dealt another blow to an oil-dependent province that was already reeling from two crude-market crashes since 2014. TC Energy Corp.'s Keystone XL would ship more than 800,000 barrels a day of crude from Alberta's oil sands to U.S. refineries.
The project's demise prompted TC Energy to let go of about 1,000 union workers on both sides of the border.
After the U.S. president's decision on his first day in office, Kenney said that Alberta would consider legal action and urged Canadian Prime Minister Justin Trudeau to impose trade sanctions if the Biden administration didn't negotiate.
In 2016, TC Energy sought $15 billion in compensation under Nafta after President Barack Obama rejected the project the previous year on environmental grounds, but the case was dropped after President Donald Trump approved the project early in his term.
© 2021 Bloomberg L.P.
Generated by readers, the comments included herein do not reflect the views and opinions of Rigzone. All comments are subject to editorial review. Off-topic, inappropriate or insulting comments will be removed.