Abu Dhabi Signals Global Ambition, Seeks Refineries
by Bloomberg
|
M. Cranny, A. DiPaola & M. Habboush
|
Tuesday, November 13, 2018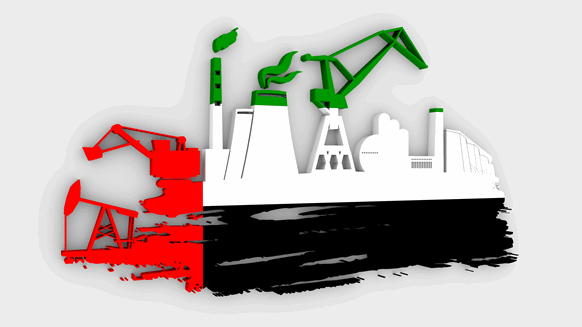 Abu Dhabi signaled its ambitions to send more oil and gas around the world as it woos investors to fields at home and hunts for assets abroad.
(Bloomberg) -- Abu Dhabi signaled its ambitions to send more oil and gas around the world as it woos investors to fields at home and hunts for assets abroad.
As state-owned Abu Dhabi National Oil Co. taps partnerships to raise domestic oil output, it's seeking refineries and other assets overseas to ensure future demand for its crude, Chief Executive Officer Sultan Al Jaber said Tuesday. The emirate is among Middle Eastern producers bucking a global trend of tight spending caps to plow billions of dollars into new sources of both oil and gas.
Adnoc's appetite for global growth extends to liquefied natural gas, with a plan to increase export capacity once Abu Dhabi becomes self-sufficient in the fuel, according to Al Jaber.
"We are working on an expansion plan for our LNG facility, which will be supplemented by us exploring other LNG opportunities beyond our borders," he said in a Bloomberg Television interview.
Adnoc aims to turn the United Arab Emirates -- where Abu Dhabi is the capital -- into a net exporter of gas by 2030, and to add almost 2 million barrels of daily crude production capacity by then. The U.A.E. is among OPEC nations targeting expansion as several other large producers such as Iran and Venezuela see their output disrupted by sanctions and internal strife.
Like an IOC
"We want Adnoc to be the company of the future, to conduct business like an international oil company while we take advantage and leverage the fact that we are the national oil company," Al Jaber said.
Persian Gulf producers have traditionally partnered with the foreign companies whose forebears discovered the region's oil a century ago. Adnoc, which has worked with international companies for more than four decades, has received 39 bids for new exploration projects that will be awarded by early next year, Al Jaber said. It aims to boost oil production capacity to 5 million barrels a day by 2030 from more than 3 million now.
The company has closed a raft of new deals this year, bringing in global partners to help develop some of its biggest oil fields and produce gas from new discoveries in the emirate. This week it signed gas-development deals with French giant Total SA and Italy's Eni SpA, and agreed with Saudi Arabian Oil Co. to explore LNG opportunities.
"Our intent here is to advance our gas portfolio," Al Jaber said. "We have the market and we have also international buyers who want to take our gas."
Adnoc's ambitions also extend to refining and petrochemicals. Al Jaber said he expects to close deals in early 2019 to bring in partners for its planned $45 billion downstream expansion. The company is seeking investors in its $20 billion refining unit and may sell shares in its pipeline business in Abu Dhabi. It's also pursuing a refinery deal in India.
"Adnoc is going to stay very much focused on Abu Dhabi, while we explore downstream opportunities beyond our borders," Al Jaber said. "We're going to be in strategic market destinations while we also help expand our market share by placing our crude."
With assistance from Mohammed Aly Sergie, Hussein Slim, Roba Aljohani and Abeer Abu Omar. To contact the reporters on this story: Anthony DiPaola in Dubai at adipaola@bloomberg.net; Manus Cranny in London at mcranny@bloomberg.net ;Mahmoud Habboush in Abu Dhabi at mhabboush@bloomberg.net. To contact the editors responsible for this story: Nayla Razzouk at nrazzouk2@bloomberg.net Amanda Jordan, John Deane.
Generated by readers, the comments included herein do not reflect the views and opinions of Rigzone. All comments are subject to editorial review. Off-topic, inappropriate or insulting comments will be removed.
RELATED COMPANIES
Company: Abu Dhabi National Oil Co. (ADNOC)
more info