Who Leads the World's E&Ps in Production Growth?
|
Thursday, August 15, 2019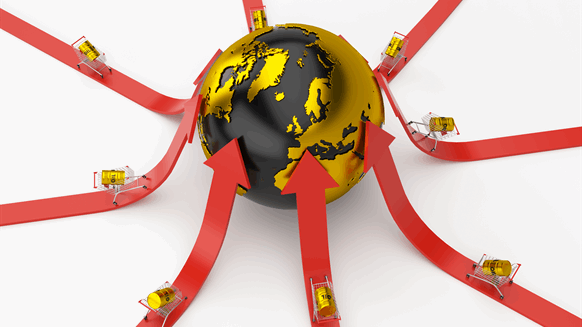 Rystad Energy ranks the world's E&Ps according to their production growth over the last five years.
The world's exploration and production (E&P) companies use their production growth to leverage the attractiveness of their portfolios to investors.
But who's leading the pack among E&Ps?
Energy research firm Rystad Energy analyzed the production of and ranked all global E&Ps according to their production growth from 2014 through 2018.
During that five-year span, Russian giant Gazprom saw the most production growth, Rystad finds. It's followed by Chinese player PetroChina Company Limited and U.S. shale company EQT Corporation ranking second and third, respectively.
"Gazprom, the clear leader in production growth, is the only company with a total growth of more than 1 million barrels of oil equivalent per day (boepd) over the last five years," said Espen Erlingsen, Rystad's head of upstream research. "The growth comes primarily from conventional assets, with gas being the key contributor to the spectacular development."
PetroChina had total growth of 730,000 boepd, driven by conventional onshore gas production and some shale gas growth. EQT touted equity production growth of almost 600,000 boepd (340 percent growth) for the last five years.
Erlingsen noted that majors and shale companies were some of the fastest-growing during the time period and that trend is expected to continue.
Among the oil majors, BP plc led with total production growth of almost 500,000 boepd. BP joins fellow majors Royal Dutch Shell plc, Total S.A., Chevron Corporation and Eni S.p.A. on the list while notable absences are ExxonMobil Corporation and ConocoPhillips.
Rystad's analysis is based on organic and inorganic growth and calculations using the company's equity across its upstream assets. National oil companies (NOCs) were excluded.
Source: Rystad
To contact the author, email Valerie.Jones@rigzone.com
Generated by readers, the comments included herein do not reflect the views and opinions of Rigzone. All comments are subject to editorial review. Off-topic, inappropriate or insulting comments will be removed.