When Will the OPEC+ Alliance Cease?
by Andreas Exarheas
|
Rigzone Staff
|
Monday, April 29, 2019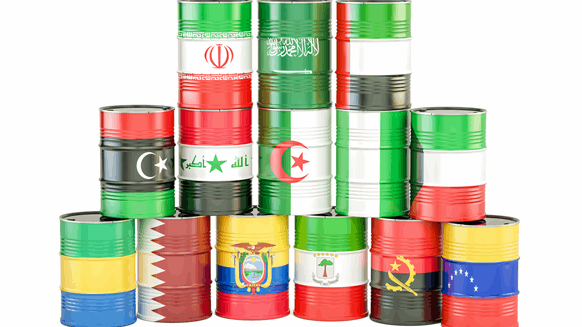 Industry experts give their views on the longevity of the OPEC+ alliance.
The OPEC+ alliance is not likely to cease in the near future.
That's what Apex Consulting Ltd. believes, according to the company's director Muktadir Ur Rahman.
The Apex Consulting representative conceded, however, "there is always the risk" that the alliance will break up and highlighted four scenarios which may potentially cause the group's demise. The first of these scenarios focuses on rising U.S. shale production.
"The response of … U.S. shale continues to blunt the impact of any production cut agreement implemented by this alliance," Rahman told Rigzone.
"This essentially means that the OPEC+ alliance would have to play a very active role in order to maintain prices within the alliance's preferred range and some of the members may become tired of having to cut production regularly and for a prolonged period of time," he added.
"They may find (or believe) it more beneficial for them to be outside this alliance than being part of it. If more and more members view this to be the case, then the alliance may cease to exist," Rahman continued.
The Apex Consulting director added that caution must be exercised about the likelihood of this scenario materializing soon though.
"This is because, so far, the OPEC+ alliance has navigated various challenges quite successfully, not least the challenge posed by … rising U.S. shale production, which is causing the OPEC+ group [to] make deeper production cuts and over a longer period of time," Rahman stated.
"Therefore, we do not believe that this scenario is likely to materialize anytime soon," he added.
Looking at potential OPEC+ breakup causes, Abhishek Kumar, head of analytics at Interfax Energy in London, also drew attention to rising oil production in the United States.
"There are concerns surrounding persistently rising oil production in the United States and whether existing cuts by the OPEC+ can be sustained beyond 2019 or deepened," Kumar told Rigzone.
"There is a real risk that the cartel could significantly lose its market share of exports to the United States if the cuts go beyond this year. Consequently, several member countries participating in the deal would like to have flexibility to reverse cuts next year. Such flexibility will be the key to maintaining the unity of OPEC+," he added.
NOPEC, Russia and Temporary Cessations
Another scenario which may cause the breakup of the OPEC+ alliance concerns the NOPEC bill, according to Rahman.
"Many of the alliance members (if not all) have significant investments in and or business relationships with the United States," Rahman stated.
1
2
View Full Article
Generated by readers, the comments included herein do not reflect the views and opinions of Rigzone. All comments are subject to editorial review. Off-topic, inappropriate or insulting comments will be removed.
MORE FROM THIS AUTHOR
Andreas Exarheas
Editor | Rigzone