What Will the Brent Oil Price Average in 2019?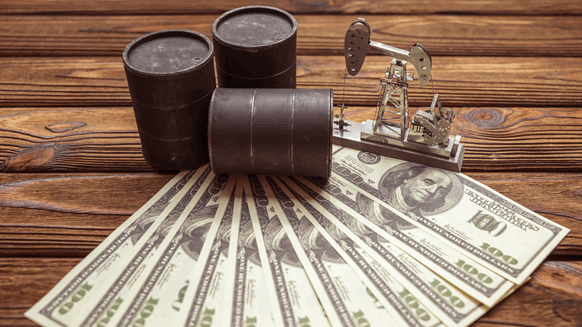 Industry experts forecast what the average price of Brent oil will be this year.
Fitch Solutions remains "bullish" on oil, according to the company's head of oil and gas analysis, Joseph Gatdula, who revealed that the business sees Brent averaging $70 per barrel this year.
"We believe that the market for crude should continue to tighten in the back half of the year," Gatdula told Rigzone.
"Demand will remain stronger than currently priced in as various global coordinated monetary and fiscal manoeuvres will be implemented to support economic growth," he added.
Gatdula said the United States and China had already "indicated or implemented" measures that "should" steady and support economic growth and highlighted that the implementation of IMO 2020 limits on high sulphur fuel used in shipping "should provide a boost to crude demand".
The Fitch Solutions representative also told Rigzone that continued market management of supply from OPEC+ and ongoing sanctions on Venezuela and Iran, as well as elevated tensions in the Middle East, will limit the growth of supply and add "further upside" pressure.
Non-OPEC supply, "in particular U.S. shale", is growing at a slower rate too, according to Gatdula, who said this indicates that increases in output above expectation are "unlikely" and highlighted that underperformance is "a potential that could surprise markets".
Back in May, analysts at Fitch Solutions saw the price of Brent averaging $73 per barrel this year. In March the analysts lowered their average annual price forecast for Brent for 2019 from $75 per barrel to $73 per barrel.
Oil in a State of Flux
Abhishek Kumar, head of analytics at Interfax Energy in London, revealed that Interfax Global Gas Analytics forecasts that Brent will average $68 per barrel this year.
Kumar said the extension of the OPEC+ agreement will minimize the chance of an oversupply in the oil market until March 2020 but added that the development reflects demand-side concerns perceived by countries participating in the deal.
"There is a real risk that a prolonged period of over-compliance by the group could tighten the market excessively," Kumar told Rigzone.
"Sharply declining oil supplies from Iran and Venezuela will also remain a concern over the coming months, which may necessitate further action by the OPEC+," he added.
Kumar said the oil market is expected to remain in a "state of flux" for the rest of 2019. A "ratcheting up" of geopolitical tensions in the Middle East will increase volatility in oil prices but will generally be supportive of the commodity, according to the Interfax Energy representative.
Kumar warned however that the U.S.-China trade war is already dampening global economic growth prospects, "which in turn will adversely impact the growth in global oil demand this year and next".
"The trade dispute is unlikely to be resolved anytime soon, which will be a bearish factor for oil prices," he stated.
1
2
View Full Article
Generated by readers, the comments included herein do not reflect the views and opinions of Rigzone. All comments are subject to editorial review. Off-topic, inappropriate or insulting comments will be removed.