What Net Zero Means for UK Oil and Gas
|
Wednesday, October 02, 2019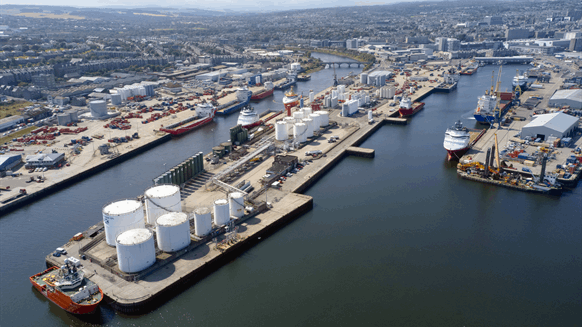 The push toward Net Zero will have major ramifications for the UK oil and gas sector.
As world leaders recently converged on New York for the 74th United Nations General Assembly, one issue was front and center: climate.

By the close of the UNGA Climate Action Summit midweek, 77 countries had reaffirmed commitments to cut greenhouse gas emissions to net zero by 2050, while 70 announced they will either boost their national action plans by 2020 or have already begun doing so.

"We need more concrete plans, more ambition from more countries and more businesses. We need all financial institutions, public and private, to choose, once and for all, the green economy," UN Secretary General Antonio Gutierres said in a closing statement.

In the UK, the Labour Party has announced it backs a 2030 Net Zero target, bringing its ambitions into line with those of the Green Party — an advance of two decades on its previously-stated position. The governing Conservative Party has set its sights on 2050, with the Liberal Democrats looking to 2045.

Whether 2030 or 2050, the push toward Net Zero will have major ramifications for the UK oil and gas sector.
"The UK Government's pioneering commitment to reach net-zero greenhouse gas emissions by 2050 is likely to accelerate the transformation of UK oil and gas companies, who must adapt or go out of business," Josh Burke, policy fellow at the Grantham Research Institute on Climate Change and the Environment at the London School of Economics and Political Science, told Rigzone.

"Many oil and gas companies are already operating at the margins of profitability because of the rising costs of extraction in the UK, as illustrated by the 2014 price downturn," Burke said.

"The oil and gas industry is committed to achieving net zero in the UK by 2050 (and Scotland by 2045)," Luca Corradi, innovation network director at the Oil & Gas Technology Centre, said. "However, we need to recognize that some oil and gas up to and beyond 2050 will still be required."
He says this should address any initial shortfall for industries and the infrastructure of a new renewable system. In the short term, Corradi said there is a need to look at abating emissions from offshore operations "to c.0.5MT/y through adoption of technology solutions, then offset the remaining with greenhouse gas removal projects like reforestation or aforestation."

In the medium term, before 2050, he says the sector must develop CCUS solutions and plants, and accelerate the production of hydrogen at scale:

"CCUS is in every pathway to remain below 2C increase according to the IEA, and in the pathway for 1.5 by the CCC in the UK. The oil and gas industry has the skills, knowledge, data, infrastructure, supply chain, and research/development to make that a reality within the required timeframe."

The OGTC has previously announced the creation of a Net Zero Solution Centre, a partnership with industry players including BP, Total, Siemens, Equinor — and Shell.

"We have set targets to reduce the net carbon footprint of our energy products, which no one else in our sector has done. And we link these targets to executive pay," Shell spokesperson Sally Donaldson told Rigzone. "We have been clear that we have set our strategy to align with the goals of the Paris agreement, and that we will move at pace with society as the energy system changes."

OGUK Chief Executive Deirdre Michie said there is a need to transition to a more diverse energy mix, noting many of OGUK's members would be investing in renewables, developing and bringing to market new technologies such as CCUS and hydrogen.

"[Our Roadmap] offers a blueprint for how we can continue to meet much of the UK's oil and gas needs from domestic resources, progressively reduce associated production emissions and develop economy-wide decarbonization technologies," Michie said. "With 40,000 new people needed in our industry, a quarter of whom will be in roles which don't currently exist, it is an industry with an exciting future."
She noted the need for regulatory clarity, saying the industry needs "a comprehensive UK energy strategy which recognizes the continued role of oil and gas in a diverse energy mix and positions us to support net zero."
"Going forward, it will be even more important for the UK Government to ensure alignment with domestic and international climate policies. It is questionable," Burke said, noting there was a question mark over whether a Net Zero target and the Government's current policies to maximize economic recovery of the UK Continental Shelf's resources were compatible.
"The Government needs to start developing transition plans now for workers and communities that could be affected by an accelerated reduction in oil and gas production from the UK Continental Shelf and the nascent onshore fracking industry in the next 20 to 30 years," Burke said.
"If there is a failure to adequately prepare, the socioeconomic ramifications will be far-reaching and long-felt – analogous to the impacts of coal mine closures in mining areas, which continue to experience labor market imbalances and, consequently, high levels of unemployment."
Kayleigh is a freelance journalist based in London. To contact the author email klong@tutanota.com.
Generated by readers, the comments included herein do not reflect the views and opinions of Rigzone. All comments are subject to editorial review. Off-topic, inappropriate or insulting comments will be removed.