What Does the Sudan Conflict Mean for Oil and Gas in the Region?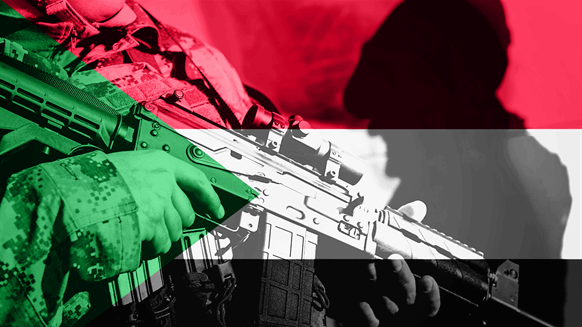 Both Sudan and South Sudan's oil production is at risk, according to Dryad Global.
Image by Allexxandar via iStock
Both Sudan and South Sudan's oil production is at risk.
That's according to Dryad Global Analyst Hope Finegold, who told Rigzone that South Sudan's oil production is reliant on two pipelines, both of which run through Sudan and converge at Khartoum "where the fighting is heaviest".
"Oil flow to terminals will likely be impacted and exports are expected to be reduced due to supply disruptions," Finegold said.
"Given the lack of alternative transit routes, Bab el–Mandeb in Port Sudan is a strategically important chokepoint. It is likely that a prolonged conflict will cause blockages or closures at Bab el–Mandeb which could lead to significant increases in shipping time and costs," the analyst added.
Finegold noted that the Sudan Armed Forces (SAF) currently has control over Port Sudan but added that airstrikes were used in the vicinity of the Port area against Rapid Support Forces (RSF) positions.
"During such time, the Al Khair terminal (petroleum and LGP terminal) was temporarily closed," the analyst said.
"South Sudan's oil production continues to flow normally, but if the conflict persists over time and even if the pipelines remain untouched, South Sudan will likely need to reconfigure its supply chain to obtain equipment from outside of Sudan," Finegold added.
Looking at Sudan's neighbor Libya, the Dryad Global representative noted that, as long as there is no conflict spillover, oil flow is unlikely to be affected in the country.
"Yet, an increased flow of migrants from Sudan could see some instability rise in Libya's oil sector as migrants put a strain on already weak state structures," Finegold said.
"Migrants in Libya are particularly vulnerable to involvement in or targeting by human traffickers and other illicit activities, which could result in increased fuel smuggling due to a strain on already thin rule of law," the analyst added.
"Whilst this should not have major impacts on port infrastructure, it may increase corruption of government and security officials. A spillover of intense conflict could see Libya further fracture into different belligerent groups, which could result in oil deposits and transit being targeted," Finegold continued.
Power Struggle
In a research note sent to Rigzone last month, Benjamin Hunter, Verisk Maplecroft's Global Risk Insights Africa Analyst, highlighted that the SAF is led by President General Abdel Fattah al-Burhan and that the RSF is led by the Vice-President Lieutenant General Mohamed Hamdan Dagalo, aka Hemedti.
"The conflict has been precipitated by Sudan's failed Democratic transition and the country is the third lowest scorer in Africa on our Democratic Governance Index with 0.97/10.00," Hunter said in the update.
"Al-Burhan and Hemedti have shared power since they dissolved a civilian-led transitional government via a coup in 2021, but they've never reconciled their divergent economic and political interests. The current fighting is the result of this power struggle," he added.
In that update, Hunter, who noted that Verisk Maplecroft does not expect a "decisive victory to occur", said the RSF is likely to target oil infrastructure linking South Sudan with Khartoum and the export terminal at Port Sudan.
"Revenue from pipeline transit fees is controlled by the SAF and Hemedti's forces will seek to cut this off in the event of an extended war," he said in the update.
"Damage to oil infrastructure would disrupt the oil exports of Malaysian, Chinese and Indian operators in South Sudan that are 100 percent dependent on accessing the global market via Sudan," he added.
"South Sudan's comparatively low output will limit any impact to global oil markets, but 90 percent of Juba's economy is based on oil exports," Hunter continued.
"This strategic imperative for President Salva Kiir's regime, which itself is vulnerable to domestic challenges from armed groups, would force Juba to support the SAF in the event of an RSF attack on oil infrastructure, widening the conflict and potentially destabilizing South Sudan," Hunter went on to state.
African Union
The African Union (AU), which is a continental body consisting of the 55 member states that make up the countries of the African Continent, announced on May 2 that it had appealed to the SAF and RSF to implement an immediate ceasefire, "in order to ensure the protection of civilians, health, sanitary, transport and other critical infrastructure, particularly water and electricity services, humanitarian access and assistance, as well as political dialogue".
On April 27, a statement posted on the AU website revealed that the Chairperson of the AU Commission, Moussa Faki Mahamat, had appealed to neighboring states of Sudan and the international community "to speedily extend humanitarian support to civilians fleeing the conflict in Sudan".
"The chairperson of the commission continues to monitor with growing grave concern, the plight of civilians caught up in the deadly conflict in Sudan," the statement noted.
To contact the author, email andreas.exarheas@rigzone.com
What do you think? We'd love to hear from you, join the conversation on the Rigzone Energy Network.

The Rigzone Energy Network is a new social experience created for you and all energy professionals to Speak Up about our industry, share knowledge, connect with peers and industry insiders and engage in a professional community that will empower your career in energy.