What Does 'No Deal Brexit' Mean for UK Oil, Gas?
by Andreas Exarheas
|
Rigzone Staff
|
Tuesday, November 26, 2019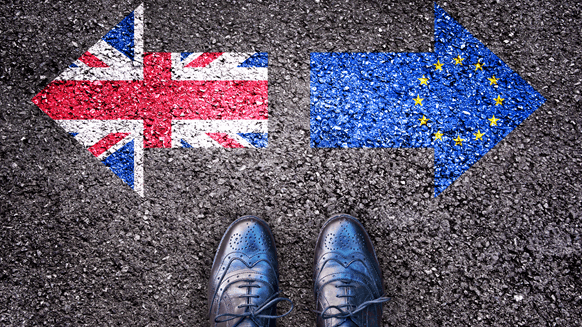 A no deal Brexit will have a largely limited impact on the fundamentals of the UK oil and gas sector, according to Fitch Solutions.
A no deal Brexit will have a largely limited impact on the fundamentals of the UK oil and gas industry.
That's according to Richard Taylor, an oil and gas analyst at Fitch Solutions, who outlined that the global oil price will continue to be the key driver of the sector.
"The trade of crude oil is unaffected by WTO [World Trade Organization] trade tariffs and itself will emerge unscathed from a reversion to WTO rules given the zero percent tariff," Taylor told Rigzone.
The Fitch Solutions representative added, however, that in a worst-case scenario for the Brexit negotiations, a reversion to WTO trade rules will have a negative effect on the cost of refined fuel trade.
"The UK relies on the EU for approximately 50 percent of imported supply. For UK refiners a potentially significant issue is that in a no deal scenario there is a risk that other countries are likely to dramatically increase tariffs on UK exports, whilst imports remain tariff free," Taylor stated.
"This would undercut UK refined product exports, and place further pressure on UK refineries, in what is already a difficult operating environment in the context of falling oil refining margins across North West Europe," he added.
Taylor also noted that, in a no deal Brexit scenario, Fitch Solutions sees risks rising to companies operating in the UK North Sea "due to the possible increased cost of trade for goods and services relating to supply chains".
"A reversion to WTO trade rules will see additional costs levied on trade of a range of goods integral to exploration, production and service companies' day-to-day business," Taylor said.
"The combined additional cost of tariffs levied on goods such as machinery, materials, electronics and other products will drive cost inflation and may be significant enough to affect the operational expenditure of North Sea players," he added.
Taylor highlighted that the UK oil and gas sector's supply chain has a closely interconnected supply chain with the EU, "adding further complications and cost inflation to future trade".
"Similarly, although uncertainty surrounding migration policy will affect a small proportion of the oil and gas labor force, this may present disruption to workflow if skilled personnel are affected," Taylor stated.
OGUK Wants Industry as Prepared as it Can be
Oil & Gas UK (OGUK) communications director Gareth Wynn told Rigzone that the organization has engaged "extensively" with its members on the potential implications of a no deal scenario "to ensure the industry has as much information as possible to enable it to be as prepared as it can be".
"This has included workshops with cohorts of members including the supply chain, engagement with political stakeholders and ongoing work to draw out and understand any potential issues, which we have then been sharing with ministers and officials," Wynn stated.
The OGUK representative said the organization "remains clear that a deal outcome rather than a no deal is in the interest of our industry".
1
2
View Full Article
Generated by readers, the comments included herein do not reflect the views and opinions of Rigzone. All comments are subject to editorial review. Off-topic, inappropriate or insulting comments will be removed.
MORE FROM THIS AUTHOR
Andreas Exarheas
Editor | Rigzone