Wartsila Wins LNG Bunkering Simulator Order
|
Friday, October 11, 2019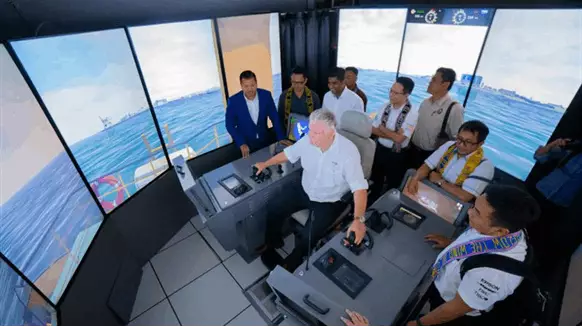 Wartsila's LNG bunkering vessel simulator enables realistic hands-on training for operators. Photo copyright Kasi Group.
Wartsila Corp. reported this week that it has won an order from Kasi Group (Malaysia) to supply a liquefied natural gas (LNG) bunkering vessel simulator. The Finland-based marine and energy technology firm contends the simulator provides first-of-its-kind hands-on training.
"As the global demand for LNG fuel for marine applications increases, the number of LNG bunkering vessels serving this demand is also increasing," Captain Bo Caspersen, general manager of Kasi Group, commented in a written statement emailed to Rigzone.
Bunkering entails transferring a fluid – such as water, lube oil, fuel oil or LNG – onto a receiving vessel, explained Marit Holmlund-Sund, general manager for positioning in Wartsila's Marine Business Marketing unit. She said the simulator aims to train shipboard – and, to some extent, land- and barge-based – personnel about procedures they need to perform before, during and after a bunkering operation.
"LNG is fairly new on the market, and although it has been around for a while in the cargo industry onboard LNG carriers, it is only recently that it is making its way into the more commercial and cruise industries," Holmlund-Sund continued.
She added that mariners and engineers dealing with LNG need specialized training given the particularly rigorous standards and conditions associated with it.
"A much lower flammable point, high volatility and a molecular structure which continuously changes make handling this type of fluid much harder than any other combustible onboard, hence even higher training standards are required," Holmlund-Sund said.
Wartsila reported the demand for training services for LNG bunkering vessel simulators has been rising since 2017, when only one LNG bunkering vessel was in service. By the end of 2018 the number of ships had increased to nine, added the firm, which anticipates the delivery of 30 new bunkering vessels over the next five years.
"To achieve best operating practices, safety and efficiency, first-rate crew training is essential," said Caspersen. The Wartsila simulator enables this."
To contact the author, email mveazey@rigzone.com.
Generated by readers, the comments included herein do not reflect the views and opinions of Rigzone. All comments are subject to editorial review. Off-topic, inappropriate or insulting comments will be removed.