War Least Desirable Outcome for US and Iran
|
Tuesday, January 07, 2020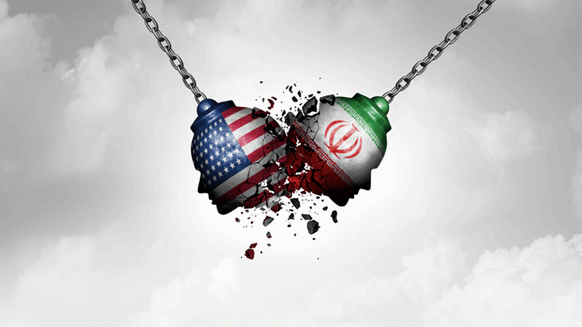 Fitch Solutions believes full scale war is the least desirable outcome for both the United States and Iran.
Full scale war is the least desirable outcome for both the United States and Iran.
That's what Fitch Solutions believes, according to Richard Taylor, an oil and gas analyst at the company. Taylor added, however, that the business sees a "high risk" of retaliatory action by Iran for the killing of General Soleimani, "which will keep a geopolitical risk premium in Brent in the near term".
"We at Fitch Solutions view it as most likely that Iran will respond in a way that seeks to bolster its power of deterrence and its projection of strength while still remaining below the 'threshold of war'," Taylor told Rigzone.
"That being said, there is still a substantial risk of miscalculation on either side, with retaliatory attacks eventually ending up crossing the respective governments' 'red lines' and causing a direct military confrontation," he added.
Taylor said that for Brent, the elevated tension and lingering threat of disruption to physical oil infrastructure will add a "bullish near-term impetus to price".
The Fitch Solutions representative noted that the extent to which Brent maintains this geopolitical risk price premium now becomes a key question, "with previous attacks in the region having caused a sharp but ephemeral run-up in the oil price before retracing within a matter of days".
"In our view, the increased likelihood of a period of reciprocal attacks and incidents between the U.S., Iran and their regional proxies will mean the current price premium in Brent is likely to be more persistent through the next few months," Taylor stated.
Will Scargill, a managing oil and gas analyst at GlobalData, said increased tensions between the U.S. and Iran "certainly add risk to the global oil market" but added that the effect on the oil market of these heightened tensions is likely to be time and value-limited.
"More significant market effects would likely only come from a major escalation in Iran's response, such as major disruption to oil transit through the Strait of Hormuz," Scargill stated.
The President of the Islamic Republic of Iran, Hassan Rouhani, revealed Friday that his country "will take revenge" after the killing of General Soleimani.
A U.S. Department of Defense (DoD) statement released Thursday confirmed that the U.S. military had killed Soleimani at the direction of President Trump. The move was made "to protect U.S. personnel abroad" according to the statement.
To contact the author, email andreas.exarheas@rigzone.com
Generated by readers, the comments included herein do not reflect the views and opinions of Rigzone. All comments are subject to editorial review. Off-topic, inappropriate or insulting comments will be removed.