US Shale Companies are Burning through Cash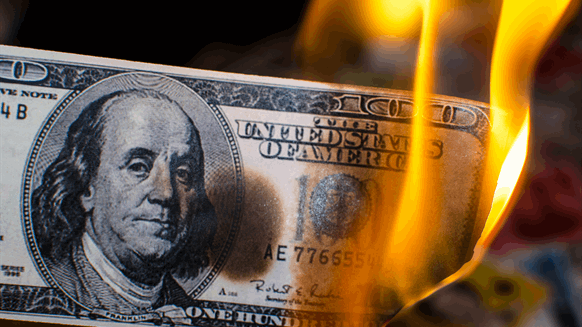 About nine in 10 U.S. shale companies are tremendously overspending, according to new analysis by Rystad Energy.
Just about 10 percent of U.S. shale companies had a positive cash flow in the first quarter of 2019, meaning the majority of companies are burning through cash, according to energy research firm Rystad Energy.
After studying the financial performance of 40 U.S. shale companies, Rystad found just four reported a positive cash flow balance in 1Q 2019. This is down from the recent norm of 20 percent.
Total S.A. saw its cash flow from operating activities (CFO) fall from $14 billion in 4Q 2018 to $9.9 billion in 1Q 2019.
"That is the lowest CFO we have seen since the fourth quarter of 2017," said Alisa Lukash, senior analyst on Rystad Energy's North American Shale team. "The gap between CAPEX and CFO has reached a staggering $4.7 billion. This implies tremendous overspend, the likes of which have not been seen since the third quarter of 2017."
Shale companies will be forced to cut CAPEX if they receive no additional funding or debt refinancing.
But, according to Rystad, no U.S. shale company has made a public offering since the steep decline in oil prices late last year, marking the longest gap in public capital issuance since 2014.
"Recently released data, which confirmed dismal first quarter earnings, only served to cement negative market sentiment," Lukash said. "While shale operators continue to focus on improving capital efficiency, investors are putting the industry under extreme pressure, leaving no room for undisciplined spending in 2019."
But with shale operators ramping up production, Rystad expects a significant increase in CFO in second quarter as oil prices improve.
"Larger diversified operators, which have multiple cash generating engines and are more resistant to volatile commodity prices, will be especially poised to open up to acquisition of new acreage," Lukash added.
Generated by readers, the comments included herein do not reflect the views and opinions of Rigzone. All comments are subject to editorial review. Off-topic, inappropriate or insulting comments will be removed.