US Firm Wins UAE Onshore Concession
|
Monday, February 04, 2019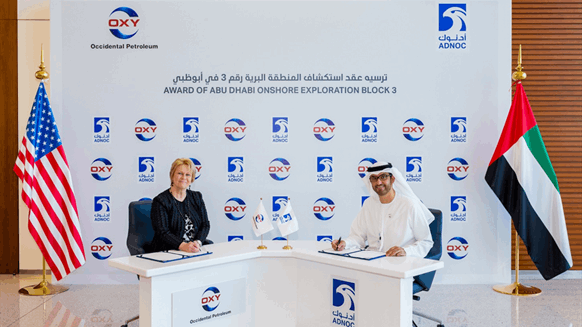 Occidental's Vicki Hollub and ADNOC's Sultan Ahmed Al Jaber at the signing ceremony. PHOTO SOURCE: ADNOC
U.S.-based Occidental Petroleum Corp. has won the first onshore exploration block in Abu Dhabi's first-ever competitive bidding round, Abu Dhabi National Oil Co. (ADNOC) reported Saturday.
According to ADNOC, Occidental's receipt of a the 35-year concession for Onshore Block 3 represents a milestone in Abu Dhabi's new licensing strategy. Onshore Block 3, located in Abu Dhabi's Al Dhafra region, covers a 2,232-square-mile (5,782-square-kilometer) area and sits near the Shah, Asab, Haliba and Sahl fields, the company added.
"This concession award demonstrates how ADNOC is accelerating the exploration and development of Abu Dhabi's vast untapped hydrocarbon resources," UAE Minister of State and ADNOC Group CEO Sultan Ahmed Al Jaber said in a written statement emailed to Rigzone. "It will help ADNOC to unlock value and stay ahead of the long-term increase in demand for energy and oil and gas products, while further strengthening Abu Dhabi's position as an essential energy provider to the world. The award also signals our continued and increasing collaboration with U.S. companies."
Al Jaber and Occidental President and CEO Vicki Hollub have signed the concession deal granting Occidental a 100-percent stake in Onshore Block 3 during the exploration phase, which will include a $244 million investment, ADNOC stated. Should Occidental succeed during exploration and establish the commerciality of discovered resources, it will have the opportunity to develop and produce any discoveries and ADNOC will have the option to hold a 60-percent stake during the concession's production phase, the national oil company added.
"We are honored to partner with ADNOC to unlock Abu Dhabi's vast untapped resources as part of its smart growth strategy," stated Hollub. "We have had a successful partnership with ADNOC developing the Shah Gas Field and look forward to continuing to work together on projects of strategic importance."
Since 2010 ADNOC and Occidental have collaborated in the ADNOC Sour Gas onshore sour gas field development and processing joint venture. ADNOC owns 60 percent of the venture and Occidental owns the remaining 40 percent. Under the Onshore Block 3 agreement, Occidental will contribute to ADNOC's mega seismic survey – announced in 2018 – to capture high-resolution 3D images of Abu Dhabi's geology up to 25,000 feet below the earth's surface, ADNOC noted.
"Occidental was selected after a competitive bid round in which they presented a compelling plan for exploration of the area," said Al Jaber. "Occidental is already a joint venture partner of ADNOC's in the Shal onshore sour gas production and processing, and the award reflects our strategy to develop long-term partnerships with those who want to invest with us across our value chain."
Generated by readers, the comments included herein do not reflect the views and opinions of Rigzone. All comments are subject to editorial review. Off-topic, inappropriate or insulting comments will be removed.