UK OFS Sector Sees Turnover and Headcount Fall
by Andreas Exarheas
|
Rigzone Staff
|
Wednesday, February 06, 2019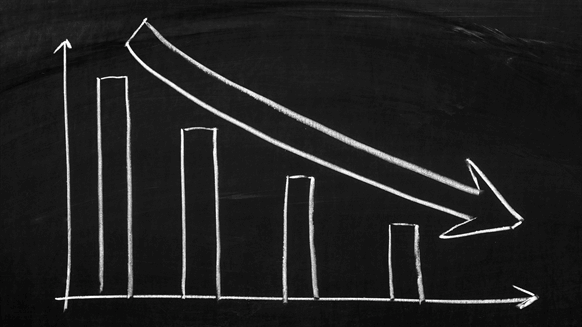 UK oilfield services sector turnover experienced its 3rd consecutive annual decline in 2017, according to a new report from EY.
UK oilfield services (OFS) sector turnover experienced its third consecutive annual decline in 2017, according to a new report from EY.
The report, which was sent to Rigzone, shows that turnover dropped from $51.4 billion (GBP 39.7 billion) in 2014 to $45 billion (GBP 34.8 billion) in 2015, $38.2 billion (GBP 29.5 billion) in 2016 and $34.8 billion (GBP 26.9 billion) in 2017. The EBITDA margin also dropped by 2.2 percentage points from 2016 to 2017, which was the largest fall since 2014, the report showed.
Employee numbers decreased too, according to the report, which highlighted that the number of workers dropped from 133,798 in 2015 to 119,846 in 2016 and 109,705 in 2017.
EY's latest report showed that worldwide turnover for global OFS companies in 2017 increased and revealed that further growth is forecasted for 2018, 2019 and 2020. The PHLX oil service sector share price index declined 45 percent between January and December 2018, however, the report highlighted, "reflecting investors' concerns about the recovery and the OFS sector in general".
"It's not unusual for the recovery in the OFS sector to lag behind the recovery in the exploration and production (E&P) sector," Derek Leith, EY partner and head of oil and gas tax, said in a company statement.
"However, the continued concerns regarding global economic growth, the demand for crude and the ability for OPEC and others to achieve demand/supply balance has ensured that a very strong focus on cost control and capital spend has maintained a downward pressure on OFS margin," he added.
Leith said the OFS sector has "most probably" come through the bottom of the cycle in 2017 but added that there is "clearly no let-up" in the pressure on costs.
"Against this backdrop, the strategy for the sector remains broadly the same: focus on competitive advantage; obtain pricing uplift through integrated service offerings; achieve economies of scale; have a clear commitment to technological innovation aligned with the agendas of E&P companies; and of course, focus on people by attracting and retaining the right level of talent," he stated.
EY describes itself as a global leader in assurance, tax, transaction and advisory services. The company has a global oil and gas sector team, which works to anticipate market trends.
Generated by readers, the comments included herein do not reflect the views and opinions of Rigzone. All comments are subject to editorial review. Off-topic, inappropriate or insulting comments will be removed.