UK North Sea Flaring Halves Since 2018
|
Wednesday, March 22, 2023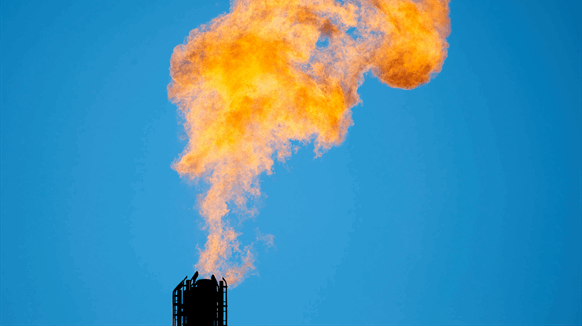 Last year's reduction alone was equivalent to the gas demand of 80,000 UK homes, according to the NSTA.
UK North Sea flaring has reduced by 50 percent since 2018, after a 13 percent drop last year, the North Sea Transition Authority (NSTA) has revealed.
Offshore flaring came in at 22 billion cubic feet of gas in 2022 and 44 billion cubic feet of gas in 2018, the NSTA highlighted in a statement posted on its website. Last year's reduction alone was equivalent to the gas demand of 80,000 UK homes, according to the NSTA, which said operators have made substantial investments in equipment designed to minimize flaring, namely flare gas recovery units.
Production operations coming to an end on older platforms with higher emissions has also contributed to the drop in flaring in recent years, the NSTA noted. The organization added, however, that last year's reduction in flaring was against a backdrop of a 17 percent rise in gas production.
In the statement, the NSTA pointed out that it started benchmarking flaring performance in 2020 and issued tougher guidance the following year. In addition to tracking, monitoring and reporting performance, the NSTA closely scrutinizes operators' applications for flaring consents, pushes back against requests to increase flaring and has ordered operators to temporarily restrict production to stay within agreed limits, the organization noted.
"It is hugely encouraging to see North Sea flaring cut in half in just four years, something the NSTA has made a priority, and which supports both the UK's energy security and net zero ambition," Hedvig Ljungerud, the NSTA Director of Strategy, said in an organization statement.
"Industry also deserves credit for making this progress," he added.
"The NSTA expects reductions to continue and remains firmly focused on both supporting and challenging industry on emissions, including from flaring and venting," Ljungerud continued.
Commenting on the NSTA's announcement that UK North Sea flaring has halved in four years, industry body Offshore Energies UK (OEUK) said the progress is a clear indicator of the industry's commitment to the measures set out in the 2021 North Sea Transition Deal.
"This is positive progress and a clear indicator that the UK offshore oil and gas sector is committed to bringing down emissions and making production as sustainable as possible," OEUK HSE and Operations Director Mark Wilson said in an OEUK statement.
"The sector's emissions targets, along with its pledge to halve methane emissions by 2030 and stop all routine flaring by the same year, marks the UK industry as one of the most ambitious in the world in terms of reducing greenhouse gases," he added.
"This is just the beginning of our journey. We must now make sure the sector receives enough investment to significantly scale-up solutions like electrification to make production sustainable, and to help decarbonize the whole UK economy," Wilson went on to state.
To contact the author, email andreas.exarheas@rigzone.com
Photo Credit – iStock.com/Yerbolat Shadrakhov
What do you think? We'd love to hear from you, join the conversation on the Rigzone Energy Network.

The Rigzone Energy Network is a new social experience created for you and all energy professionals to Speak Up about our industry, share knowledge, connect with peers and industry insiders and engage in a professional community that will empower your career in energy.