UK Awards First Carbon Storage Licenses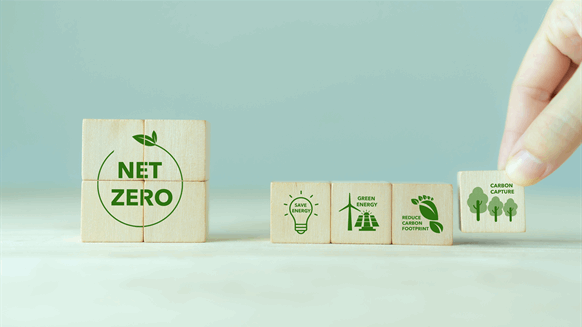 The storage sites could hold 10 percent of total UK yearly emissions by 2030.
Image by Parradee Kietsirikul via iStock
A United Kingdom energy regulator offered Thursday the country's first licenses for carbon storage with 12 companies winning a total of 20 awards.
The facilities to trap planet-warming emissions will be built at offshore sites including near Aberdeen, Lincolnshire, Liverpool and Teesside, the North Sea Transition Authority (NSTA) said in a press release.
The oil and gas regulator of England however did not name the winners of the June-September licensing round.
"The 20 licenses in total are around 12,000 square kilometers in size, a little bigger than Yorkshire, the UK's largest county", the NSTA said.
The storage sites could hold up to 30 million metric tons of carbon dioxide (CO2) a year by 2030 or about 10 percent of total UK yearly emissions, at 341.5 million metric tons in 2021, the agency said. Some could start operation within six years, it said.
"As a nation, we cannot meet our decarbonization targets without carbon storage", NSTA chief executive Stuart Payne commented. "This is net zero delivery in action.
"The awards we offer today could store around 10% of the UK's emissions, and through our engagement with applicants, we will have committed work plans in place such as seismic surveys and drilling of wells – we are working with industry to move at real pace".
Energy Efficiency and Green Finance Minister Martin Callanan said in the announcement: "Thanks to the government's unprecedented £20 billion investment in early-stage carbon capture and storage development, we are in prime position to take advantage of the geological goldmine beneath our shores to store CO2, and grow our economy by becoming world-leaders in this developing industry".
The $24.8-billion (GBP 20 billion) carbon capture allotment is spelled out in the spring budget. "This unprecedented level of funding for the sector will unlock private investment and job creation across the UK, particularly on the East Coast and in the North West of England and North Wales", read the budget text published March 15.
The selection of the sites considered "links to industrial clusters which are expecting carbon storage to help meet decarbonization goals", the NSTA said.
The licensees need to obtain seabed leases from the Crown Estate or Crown Estate Scotland for the projects to progress, it said.
"As managers of the seabed around England, Wales and Northern Ireland, The Crown Estate is committed to designing and delivering the required leasing process for CCUS [carbon capture, utilization and storage] developers, ensuring this works for all marine users and respects our vital coastal environments and habitats", Gus Jaspert, marine managing director at the Crown Estate, commented.
To contact the author, email jov.onsat@rigzone.com
What do you think? We'd love to hear from you, join the conversation on the Rigzone Energy Network.

The Rigzone Energy Network is a new social experience created for you and all energy professionals to Speak Up about our industry, share knowledge, connect with peers and industry insiders and engage in a professional community that will empower your career in energy.