UK Annual Household Energy Inflation Eased April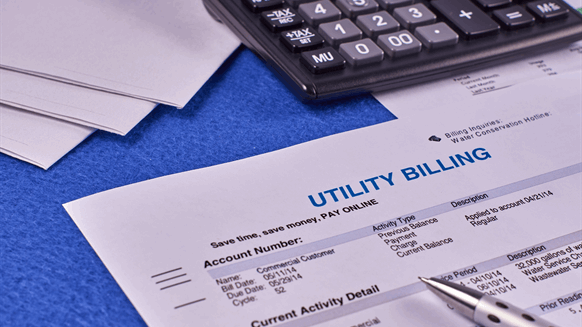 Household energy costs in the UK eased in the 12 months to April 2023 mainly due to lower gas prices.
Image by Maksim Shchur via iStock
Household energy costs in the United Kingdom eased in the 12 months to April 2023 mainly due to lower gas prices, while overall consumer price inflation hit a 13-month low, official data showed Wednesday.
However, inflation based on the consumer price index (CPI) remained high at 8.7 percent as steep food prices offset the easing in household energy inflation, the Office for National Statistics (ONS) reported. The annual CPI inflation rate for housing and household services (water, electricity, gas and other fuels) was 12.3% in April 2023, down from 26.1 percent in the prior month and 13.2 percent in April 2022. That of food and non-alcoholic beverages rose by 17.5 percentage points to 19 percent in the 12 months to April 2023 against April 2022, the highest among the CPI divisions, though it dipped from 19.1 percent in March 2023.
"The slowdown in the annual CPI rate into April 2023 reflected downward contributions from 6 of the 12 divisions, with the largest downward contribution of 1.72 percentage points coming from housing and household services", the ONS said in its online statistical bulletin. "Within this division, electricity, gas and other fuels made a downward contribution of 1.8 percentage points".
Gas prices fell one percent between March and April, the first easing in gas prices by month-on-month comparison since October 2020, the ONS said in a supplementary release. March-April 2022 saw a 66.8 percent increase in gas prices.
Electricity bills also slid 1.1 percent between March and April 2023, after rising 40.5 percent in the same period 2022.
"Around half (49%) of adults are using less fuel in their homes because of increases in the cost of living", the agency said in the supplementary release, using data from an opinion poll it conducted in the first two weeks of May. That was down from 54 percent in the prior survey, held between April 19 and May 1.
Government caps on electricity and gas for households through the Energy Price Guarantee helped ease energy inflation, the ONS said in its main inflation bulletin. But it excluded from the CPI inflation calculation government energy aid transfers to households that "increased household income rather than reduced expenditure".
"The implication of the decisions was that they were not part of household expenditure and, as a result, out of scope of the consumer price indices", the office explained.
The easing in energy inflation was also reflected in the transport sector, where average petrol and diesel prices decreased to 145.8 and 162.4 pence per liter respectively in April from 161.8 and 176.1 pence a liter respectively in the same period a year ago.
"The rate of inflation fell notably as the large energy price rises seen last year were not repeated this April", ONS chief economist Grant Fitzner said, in comments published by the ONS on Twitter.
Energy prices skyrocketed in 2022 following major producer Russia's invasion of Ukraine having already been rising before the war that prompted punitive responses affecting Russian oil and gas exports. The Brent international spot price benchmark for petroleum averaged $100.93 a barrel last year, its highest since 2013, while the Henry Hub world benchmark for natural gas averaged $6.45 per million British thermal unit, the USA distribution center's highest since 2008, according to the USA Energy Information Administration.
"However, prices in general remain substantially higher than they were this time last year, with annual food price inflation near historic highs", Fitzner added.
Earlier the International Monetary Fund said declining energy prices would help boost consumer spending in the UK and help it avoid a recession this year, in a u-turn from its projection of negative 0.3 percent real gross domestic product. The Washington-based lender revised Tuesday its forecast for the UK economy in 2023 to a 0.4 percent growth.
But the IMF warned: "Still, economic activity has slowed significantly from last year and inflation remains stubbornly high following the severe terms-of-trade shock due to Russia's war in Ukraine and, to some extent, labor supply scarring from the pandemic".
"Monetary policy will need to remain tight in order to keep inflation expectations well-anchored and bring inflation to target", it said.
The central bank currently has a 4.5 percent interest rate, consistently raised since March 2020 and the highest since October 2008, when the Bank of England imposed the same rate.
To contact the author, email jov.onsat@rigzone.com
What do you think? We'd love to hear from you, join the conversation on the Rigzone Energy Network.

The Rigzone Energy Network is a new social experience created for you and all energy professionals to Speak Up about our industry, share knowledge, connect with peers and industry insiders and engage in a professional community that will empower your career in energy.