UAE Firm to Invest in Texas LNG Project Developer
|
Thursday, October 24, 2019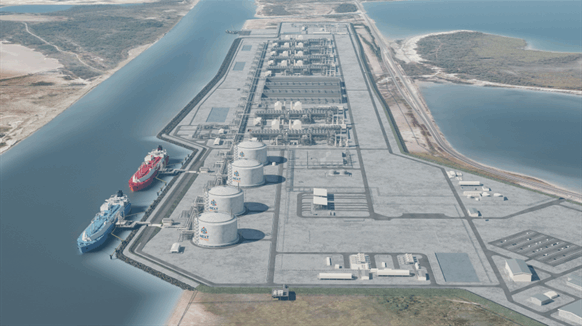 Pictured is a rendering of the Rio Grande LNG export facility in the Port of Brownsville, Texas. IMAGE SOURCE: NextDecade Corp.
Mubadala Investment Co., the Abu Dhabi government-owned sovereign wealth fund, has agreed to purchase $50 million of NextDecade Corp's common stock in a private placement, the companies reported Thursday.
NextDecade, which is developing the Rio Grande LNG export project in Brownsville, Texas, will issue the common stock to Mubadala at a price of $6.27 per share, according to a joint written statement from the firms.
"We are honored to welcome Mubadala, a leading global investor, as a shareholder in our company," NextDecade Chairman and CEO Matt Schatzman commented. "Mubadala brings a valuable perspective on large-scale infrastructure investment and the growing role of LNG in the Middle East and other markets around the world. We look forward to a strong and lasting partnership."
In conjunction with the deal, the companies also stated that Mubadala will receive a seat on NextDecade's board of directors. Also, Mubadala – whose global investment portfolio across various industries totals $229 billion – will be able to contribute project-level capital upon the Rio Grande LNG final investment decision.
"We strongly believe that the Rio Grande LNG project is optimally positioned to provide a highly competitive export route for the abundant gas resources of the Permian Basin and a compelling commercial proposition for LNG customers, Permian producers and NextDecade shareholders alike," noted Khalifa Al Romaithi, Mubadala's midstream executive director. "Our investment also reflects Mubadala's positive outlook on the global gas market and the growing role of gas in the energy transition."
As Rigzone reported in May 2018, the Rio Grande project would take in associated natural gas shipped from the Permian Basin. The 27-million-ton-per-annum, six-train Rio Grande LNG export terminal in the Port of Brownsville would receive gas via the Rio Bravo Pipeline. The pipeline – a project NextDecade is developing with Enbridge Inc. – would deliver up to 4.5 billion cubic feet per day of Permian and Eagle Ford Shale gas from the Agua Dulce supply area near Corpus Christi. In May of this year, Rigzone also reported that Bechtel Oil, Gas and Chemicals won Rio Grande LNG engineering, procurement and construction contracts worth more than $9.5 billion.
According to a timeline NextDecade's website, a final investment decision on the project should occur in the first quarter of 2020.
To contact the author, email mveazey@rigzone.com.
Generated by readers, the comments included herein do not reflect the views and opinions of Rigzone. All comments are subject to editorial review. Off-topic, inappropriate or insulting comments will be removed.