Turning the Faucet Back On: OFS Rebuilding Workforce
by Valerie Jones
|
Rigzone Staff
|
Thursday, October 12, 2017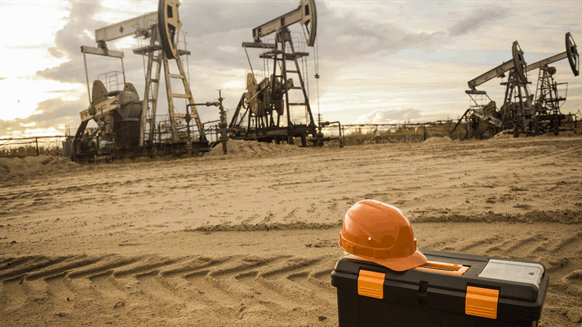 After a prolonged oil slump and hundreds of thousands of layoffs, oilfield service companies are having to hire talent again.
After the storms of the oil and gas industry's downturn subside, employers are then left with the aftermath – which often includes a diminished workforce.
Oilfield service companies were hit tremendously hard during the downturn caused by plummeting crude oil prices. Houston-based consulting company Graves & Co. estimated almost 200,000 jobs were lost globally in the service sector alone. Majors like Schlumberger, Baker Hughes and Halliburton laid off thousands during the multi-year oil slump. Baker Hughes also implemented pay cuts to some employees as companies grappled with the uncertainty of the length of the downturn.
But now about three years after the industry's woes began, exploration and production (E&P) activity has picked back up, fueled in part by opportunities in the Permian (deemed by some as Permian Panic) and the Vaca Muerta.
Large oilfield service companies of course aren't the only ones who suffered. Smaller companies felt the pain as well. For example, US Well Services, LLC, a Houston-based company that provides hydraulic fracturing services in unconventional oil and natural gas basins in North America, has had to rebuild its workforce as well.
"Like others, we went through multiple layoffs, loss of our 401K match, a pay reduction for salaried employees throughout the entire organization and other non-essential reductions in expenditures," Dean Fullerton, vice president of human resources, US Well Services, LLC, told Rigzone.
Because the company didn't have to completely shut down any of its fleets of equipment during the downturn, it allowed them to respond sooner to the upturn in demands for frac horsepower, he said.
Time to Rebuild
US Well Services, LLC has recently opened a new district in the Bryan/College Station, TX area, shifting one northeast fleet to this location, and the company is also in process of bringing up two additional fleets. This has caused the company to hire 150 people companywide this year with plans for at least 50 more in coming months, representing a workforce increase of 25 percent.
"The Texas basins other than the Permian have not really rebounded yet and this has resulted in a good supply of talented applicants being available either in the area or who wish to return from the Permian," Fullerton said.
Fullerton goes on to say that the company has been blessed with a steady flow of experienced applicants – though he admits there are some challenges.
"So far we have had many people who wish to join us, especially new petroleum engineering talent, but unfortunately a lot more are available than we have positions," he said.
Describing the downturn as "deep and painful," Fullerton said the industry lost a lot of credibility and talent in the industry from experienced workers and newer entrants.
"Some experienced workers retired or simply tired of the ups and downs, and some of the green hats had never experienced it and sought safer, less volatile industries and changed careers," he said.
With every downturn comes an opportunity to learn something. Considering the most recent one was described by seasoned oil and gas professionals as the worst they've lived through, the hope is that the industry learned from this.
"The newest generation of workers today isn't as willing to ride out the ups and downs that workers have in the past and would rather leave the industry than experience even one more layoff," Fullerton said. "Pulling that lever again anytime soon as companies have done quickly in the past will result in people abandoning our industry altogether if we have to retract again. Let's hope this upturn ends up more of a marathon and less of a sprint that can sustain employment and the U.S. economy for years to come."
Generated by readers, the comments included herein do not reflect the views and opinions of Rigzone. All comments are subject to editorial review. Off-topic, inappropriate or insulting comments will be removed.