Trump's Oil Buy Could Help Hundreds of Shale Drillers
by Bloomberg
|
Stephen Cunningham and Lucia Kassai
|
Thursday, March 19, 2020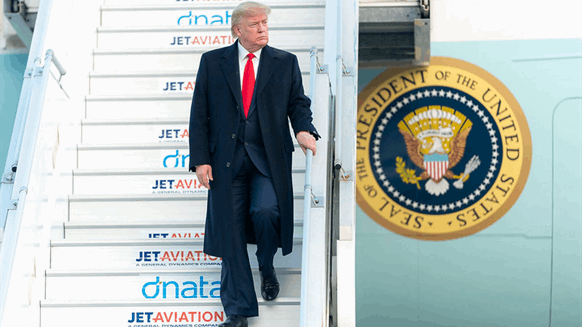 The plan involves buying as much as $3B worth of oil from domestic producers who employ 5,000 people or less.
(Bloomberg) -- The Trump administration's plan to aid struggling American shale drillers involves buying as much as $3 billion worth of oil from domestic producers who employ 5,000 people or less.
About 300 publicly traded U.S. explorers meet the criteria, including Continental Resources Inc., the shale company owned by billionaire Trump supporter Harold Hamm, according to data compiled by Bloomberg. Other potential beneficiaries include Chesapeake Energy Corp., Whiting Petroleum Corp. and California Resources Corp., all of which are trading at distressed levels.
The Energy Department will initially purchase 30 million barrels of sweet and sour crude for delivery in May and June, with plans to buy as much as 77 million barrels in total over time, the agency said. It's seeking $3 billion from Congress to cover the cost, Energy Secretary Dan Brouillette told reporters Thursday.
The move comes as U.S. benchmark crude has plunged about 60% this year amid a price war between Saudi Arabia and Russia that has hit a market already hurting from coronavirus-led demand destruction. Current prices are well below the breakeven level for the biggest American shale fields and threaten to throw smaller, highly indebted producers into bankruptcy.
"We're moving as fast as we can," said Brouillette. Earlier, he characterized the price war as an "intentional disruption to world oil markets by foreign actors." The agency's funding request has "really broad support" in Congress, he said.
Treasury Secretary Steven Mnuchin called for even greater action to aid American producers on Thursday, saying he will recommend President Donald Trump ask Congress for as much as $20 billion to keep the Strategic Petroleum Reserve full for a decade. "Let's go out and buy," Mnuchin said in a Fox Business Network interview. "Fill up the reserve."
At today's prices, $20 billion could buy more than 800 million barrels of oil -- far exceeding the reserve's total capacity of 713.5 million barrels. Some 635 million barrels are already stored there, in underground salt caverns along the U.S. Gulf Coast.
Bids are due March 26. Payment for the crude would be issued within 30 days of invoicing, although it was unclear if invoices could be submitted prior to delivery.
"It's our expectation that once Congress appropriates the funds, we can start to purchase oil approximately two weeks after that date," Brouillette said. A second round of purchases could begin within 60-90 days of the first, he added.
For now, the Strategic Petroleum Reserve is "mission-ready" to receive up to 685,000 barrels a day.
Oil traders and other sellers are allowed to take part in the sale, as long as the crude is sourced from American producers with less than 5,000 employees.
--With assistance from Rachel Adams-Heard and Ari Natter.
To contact the reporters on this story:
Stephen Cunningham in Washington at scunningha10@bloomberg.net;
Lucia Kassai in Houston at lkassai@bloomberg.net
To contact the editors responsible for this story:
David Marino at dmarino4@bloomberg.net
Catherine Traywick, Pratish Narayanan
Generated by readers, the comments included herein do not reflect the views and opinions of Rigzone. All comments are subject to editorial review. Off-topic, inappropriate or insulting comments will be removed.