Total and ADNOC Plan Seismic Drone Project
|
Thursday, November 14, 2019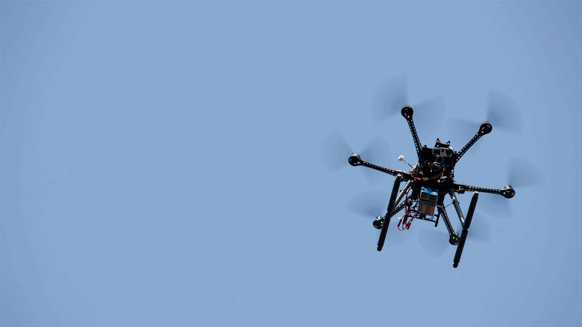 The project will use a fleet of drones to drop off thousands of seismic sensors throughout Abu Dhabi and unmanned ground vehicles to retrieve them.
Total and Abu Dhabi National Oil Co. (ADNOC) reported Wednesday that they are collaborating in a pilot project to deploy what they contend is the world's first automated seismic acquisition system.
The project, which will take place throughout Abu Dhabi, will use six autonomous aerial drones to drop off thousands of seismic sensors and unmanned ground vehicles to retrieve them, ADNOC and Total noted in written statements. Because the conventional technique requires ground-based teams to manually deploy and recover sensors, the companies stated the unmanned approach costs less.
Total and ADNO added that the pilot, which will cover a 36-square-kilometer desert environment and contribute to onshore exploration and appraisal campaigns, will apply Total's Multiphysics Exploration Technology Integrated System (METIS). Total trialed METIS in Papua New Guinea in late 2017.
According to Dominique Janodet, vice president of research and development with Total Exploration and Production, the company seeks to innovate seismic acquisition by minimizing the surface impact of petroleum activities, improve the quality of sub-surface images and improve overall operational efficiency.
"We are proud to have this opportunity to collaborate once again with ADNOC to share advanced technological know-how and expertise," Janodet stated. "In addition, METIS is a major technology to reduce the environmental footprint of our onshore exploration of our onshore exploration and appraisal campaigns, which is completely in line with our environmental commitments and our ambition to be the responsible energy major."
Alan Nelson, ADNOC's chief technology officer, called METIS a "pioneering automated technology" that could facilitate conducting seismic surveys in harsh environments.
"The ultimate purpose of this collaboration is to be able to jointly develop a safer, faster, more efficient and cost-effective acquisition system to acquire 3D and 4D high-resolution seismic images of the subsurface, which can be processed in real-time to build a clearer understanding of the subsurface, lowering geoscience and drilling uncertainties and optimizing field production," concluded Khadija Al Daghar, ADNOC's vice president of research and technology development.
To contact the author, email mveazey@rigzone.com.
Generated by readers, the comments included herein do not reflect the views and opinions of Rigzone. All comments are subject to editorial review. Off-topic, inappropriate or insulting comments will be removed.