Top 10 Independent Oil and Gas Companies to Work For
by Andreas Exarheas
|
Rigzone Staff
|
Wednesday, September 04, 2019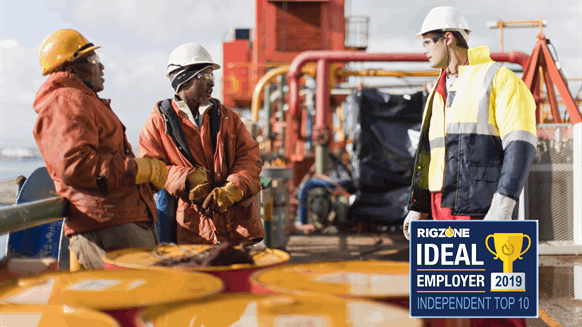 Rigzone's latest Ideal Employer Survey outlines the most desirable independent oil and gas companies to work for.
Mixed Outlook for Independents
The average full cycle breakeven for the independent oil and gas sector is currently around $45 per barrel, according to Keith Myers, president of research at Westwood Global Energy Group, who said prices above this level mean the sector overall will continue to be profitable.
"Capital investment is recovering slowly but future prospects are, as always, linked to oil prices," Myers told Rigzone.
The Westwood Global Energy Group representative added that oil and gas demand continues to grow despite climate concerns that are "increasingly impacting investor sentiment". Myers also warned that new capital raising continues to be difficult and mentioned that continued consolidation in the sector "should be expected".
Offering her input on the independent oil and gas industry, Jenni Nicholls, marketing manager for international oil and gas consultancy EPI Group, said as long as the oil price remains stable at $60 per barrel or over, the sector will "remain steady".
Nicholls added that independents seem to have had an improving year over the last 12 months, with exploration rates increasing.
Stephen Brennock, an oil analyst at PVM Oil Associates, revealed to Rigzone that he suspects "tough times" lie ahead for oil and gas companies.
"This is principally due to the downbeat price outlook. A combination of faster non-OPEC output growth and easing consumption growth in the coming months will keep a lid on oil prices," Brennock stated.
"As things stand, the mother of all gluts of will hit the oil market in 2020 and will bring with it a big dose of price pain. Big oil companies will be able to weather the storm but smaller, independent players will struggle with price volatility and difficulty in raising capital," he added.
"This is especially true of U.S. shale players which are under increasing pressure to deliver returns for shareholders," Brennock continued.
To contact the author, email andreas.exarheas@rigzone.com
1
2
View Full Article
Generated by readers, the comments included herein do not reflect the views and opinions of Rigzone. All comments are subject to editorial review. Off-topic, inappropriate or insulting comments will be removed.
MORE FROM THIS AUTHOR
Andreas Exarheas
Editor | Rigzone