Top 10 Ideal Downstream Employers for 2019
|
Thursday, August 22, 2019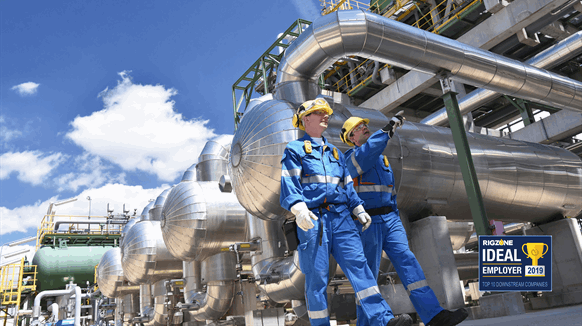 Here is a breakdown of the 10 highest-scoring downstream employers in Rigzone's 2019 Ideal Employer Survey.
Through the years, many familiar names have graced Rigzone's listing of the top 10 downstream companies based on Ideal Employer Survey findings. Although that trend is still evident in the results of the 2019 Ideal Employer Survey, a newcomer has joined the ranks.
With the help of 11,054 survey participants from 1,800 different companies in 100 countries, Rigzone has determined which downstream employers represent the top tier. Individuals completing the 2019 Ideal Employer Survey, which Rigzone conducted from November 2018 to March 2019 using the Sawtooth Software online survey tool, responded to a variety of questions given market conditions.
Below is a breakdown of the 10 highest-scoring downstream employers, ranked by people who actually work in the downstream sector. All figures reflect the most recent information that Rigzone obtained from publicly available sources such as company websites and annual reports.
To find out which company has joined the ranks of the downstream elite, keep reading!
10. Schlumberger
Among the top global oilfield services players, Schlumberger also delivers products and service for downstream and midstream clients. For instance, it provides oil, water, gas and solids processing and separation services. Headed by CEO Olivier Le Peuch, Schlumberger employs approximately 100,000 individuals and maintains principal offices in Paris, Houston, London and The Hague.
9. Halliburton
Marking its 100-year anniversary in 2019, Halliburton is one of the world's largest oil and gas service companies. Much of Halliburton's business falls within the scope of the upstream, but it does offer mid- and downstream clients pipeline, process and chemical services and products. Headquartered in Houston, Halliburton also maintains a key regional office in Dubai that manages its Eastern Hemisphere operations. Globally, the company operates in more than 80 countries and employs approximately 60,000 individuals. Jeff Miller is Halliburton's corporate president and CEO.
8. Abu Dhabi National Oil Co. (ADNOC)
One of three state-owned companies to land on Rigzone's Top 10 downstream employer list for 2019, ADNOC boasts 922,000 bpd of refining capacity but it is not stopping there. As this Rigzone article from February notes, 48-year-old company is expanding total capacity at its Ruwais, UAE refinery by 65 percent to 1.5 million barrels per day (bpd) over the next six years.
To be sure, ADNOC's expertise extends beyond the downstream. The national oil company (NOC) manages 95 percent of the UAE's proven oil reserves and 92 percent of its gas reserves. Its upstream operations produce approximately 3 million barrels of oil per day and more than 9.8 billion cubic feet of raw gas per day. Sultan Ahmed Al Jaber serves as ADNOC's chief executive.
7. Qatar Petroleum
Another NOC, Qatar Petroleum (QP), is debuting on Rigzone's latest list of top downstream employers. The company is executing ambitious growth plans across the value chain both within Qatar and beyond the tiny country's borders. For instance, one of QP's more noteworthy recent international downstream developments is a joint $8 billion world-scale petrochemicals complex it will develop with Chevron Phillips on the U.S. Gulf Coast.
QP President and CEO Saad Sherida Al-Kaabi also serves as Qatar's Minister of State for Energy Affairs.
6. Total
At the end of 2018, more than 104,000 people worked for Paris-based Total – one of the world's largest publicly traded oil and gas companies. The firm is a major downstream player, with global operations in refining, petrochemicals and fuel and lubricant marketing as well as renewables. Total's share of crude distillation capacity at refineries it fully or partially owns was slightly above 2 million bpd at the end of 2018. Its global petrochemical production capacities at the same point in time amounted to approximately 21.3 million tons.
5. Saudi Aramco
The third NOC to appear in the Ideal Employer Top 10 for the downstream, the refining and petrochemicals reach of Saudi Arabian Oil Co. (Saudi Aramco) is considerable. In addition to owning and operating three refineries in Saudi Arabia, with a fourth under construction, Saudi Aramco participates in five domestic refineries with international firms. Beyond the Kingdom, the NOC maintains a downstream presence in Asia, North America and Europe. According to a 2017 report, the company's total share of refining capacity at domestic and international facilities amounted to 3.1 million bpd.
CEO Amin H. Nasser is leading Saudi Aramco at a time when the Saudi government is trying to open state-owned enterprises to private investors. Along those lines, the Kingdom is seeking to launch an initial public offering (IPO) of a minority of Saudi Aramco's shares to investors to raise capital for growth projects. At this writing, when the approximately 65,000-employee company's IPO will occur is uncertain.
4. BP
Led by chief executive Bob Dudley, London-based BP p.l.c. employs approximately 73,000 people across its operations in 78 countries on six continents. The integrated oil and gas company's Downstream segment encompasses BP's Fuels, Lubricants and Petrochemicals businesses. For 2018, BP reported its Downstream segment processed 1.7 million bpd of crude oil at its various refineries and produced 11.9 million tonnes of petrochemicals.
1
2
View Full Article
Generated by readers, the comments included herein do not reflect the views and opinions of Rigzone. All comments are subject to editorial review. Off-topic, inappropriate or insulting comments will be removed.