Three Drilling Contractors Advance in Rigzone Employer Survey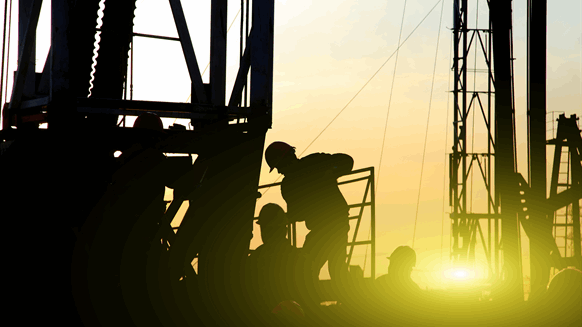 Three drilling contractors posted year-on-year gains in the ranking for that industry group in Rigzone's 2018 Ideal Employer Survey.
Three drilling contractors posted year-on-year gains in the rankings for that industry group in Rigzone's 2018 Ideal Employer Survey.
The list of top upward movers among drilling contractor stems from Rigzone's most recent Ideal Employer Survey, which compiled 6,621 oil and gas professionals' insights on current market conditions. The industry pros, who represented 2,990 different companies in more than 100 countries, completed the survey from June to November 2017. The sources of information about the drilling contractors below include company websites and publications such as earnings reports.
Ensco
The drilling contractor making the greatest ascent in Rigzone's 2018 Ideal Employer ranking is Ensco plc, which moved up three spots year-on-year.
Operating across six continents, Ensco states that its offshore fleet is the world's largest and that the age of its ultra-deepwater fleet averages just six years. The fleet includes:
12 drillships
10 dynamically positioned semisubmersibles (three with mooring capabilities)
3 moored semisubmersibles
36 premium jackups
2 deepwater managed units
In 2017 Ensco acquired Atwood Oceanics, Inc. Ensco previously said that acquiring Atwood Oceanics added several high-specification assets to the fleet and solidified their position in the ultra-deepwater segment of the market by adding two versatile semisubmersibles and four of the highest-specification drillships in the global fleet today. The company has also stated that these rigs are equipped with technologies that increase efficiencies for clients and are capable of completing the most complex well programs.
When Ensco announced its 2017 earnings earlier this year, CEO and President Carl Trowell noted that the drilling contractor's offshore crews and onshore employees achieved a number of operational and safety milestones.
"Operational uptime was 99 percent for the second consecutive year and we set a new company record for safety performance by lowering our total recordable incident rate to 0.15, significantly outperforming the industry average that increased year over year," Trowell stated. "This strong operational and safety performance … helped us to win 15 percent of the new rig years awarded globally – more than any other offshore driller and double that of our nearest independent competitor."
In a recent press release, Ensco announced that it earned first place for total customer satisfaction for the eighth consecutive year in the Offshore Drilling segment of the Oilfield Products and Services Customer Satisfaction Survey conducted by EnergyPoint Research. The company, which noted that it received top honors in 12 of 18 categories, stated the independent annual survey is the industry benchmark for measuring customer satisfaction across the global oilfield and comprises thousands of in-depth evaluations.
Ensco, whose employee headcount is approximately 4,600, told Rigzone that it offers competitive benefits, training programs and a Competency Assurance Program that has been accredited by the International Association of Drilling Contractors. The London-headquartered company's corporate offices are in Houston. In addition, it maintains major operational offices in Angola, Brazil, Scotland, Singapore, United Arab Emirates and the United States.
Nabors
Nabors moved up two places in Rigzone's latest Ideal Employer ranking of drilling contractors. Moreover, it has jumped seven spots in Rigzone's Global Top 30 list of all oil and gas Ideal Employers year-on-year.
According to Nabors, the company owns and operates one of the world's largest land-based drilling rig fleet. Moreover, it is a leading provider of offshore platform workover and drilling rigs in the United States and numerous international markets. Operating in 28 countries, Nabors also provides directional drilling services, performance tools and various technologies throughout many of the most significant oil and gas markets. As of April 16, Nabors' assets include 407 land drilling rigs and 31 offshore platform rigs.
Since the previous Ideal Employer Survey, Nabors has completed much of its U.S. Lower 48 rig upgrade program. In recent years, the company's upgrades included:
More advanced walking systems for multi-well pad drilling and a design that enables a rig to move quickly over existing wells along both the X and Y axes
Adding an upsized rig class designed for high-intensity, multi-well pads and another rig class geared for drilling challenging longer laterals
Increased automation of routine surface tasks and integration of the rig and downhole processes has been an intense development effort by Nabors since 2011, when Anthony G. Petrello assumed the Chairman, President and CEO role. The outcome of this effort has begun to penetrate the drilling market. Nabors' proprietary enabling software is installed across its rig upgrade and new build programs, allowing the company to integrate the surface systems of its rigs with downhole tools and technologies. Moreover, it is integrating services into its high-performance rigs that historically required an extra layer of contractors.
"With our integrated solutions, we are able to help operators benefit from higher levels of efficiency, faster move times and greater racking capacities, and deliver a more accurately placed higher quality wellbore with improved productivity," Denny Smith, Nabors vice president of corporate development and investor relations, told Rigzone. "Through this integration of Nabors' surface tools and equipment and work crews trained to a higher skill level, we are able to provide more cost-effective multiple integrated services typically performed by third parties."
1
2
View Full Article
Generated by readers, the comments included herein do not reflect the views and opinions of Rigzone. All comments are subject to editorial review. Off-topic, inappropriate or insulting comments will be removed.