The Top 10 Ideal NOC Employers
|
Thursday, August 29, 2019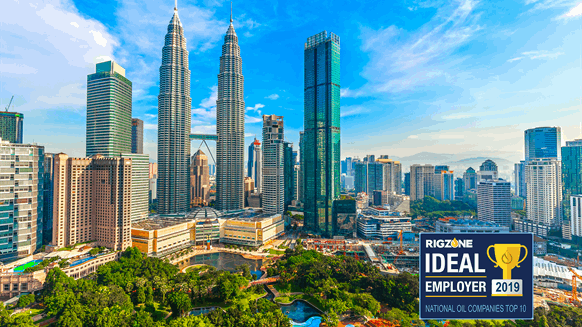 Presenting the highest-scoring NOCs in Rigzone's 2019 Ideal Employer Survey!
A national company (NOC) is somehow tied to the government of its host country. In some cases, the government fully owns a NOC. In other cases, when private-sector shareholders own a portion of the entities, NOCs bear some resemblance to their multinational or international oil company (IOC) peers.
Although NOCs pursue the profit motive, their link to government obliges them to fulfill other goals as well. In fact, some NOCs exist as an extension of government to provide jobs, fund social programs and subsidize citizens' energy costs. Other NOCs, though perhaps not a formal arm of government, nevertheless seek to create value for shareholders while supporting other, national objectives promoted by political elites.
NOCs command a significant role within the global oil and gas industry. Which ones enjoy the highest regard among oil and gas professionals? Rigzone sought to answer that question through its 2019 Ideal Employer Survey, which collected insights about NOCs and other oil and gas employers from 11,054 individuals representing 1,800 different companies in 100 countries. The survey, conducted with the Sawtooth Software online survey tool, ran from November 2018 to March 2019.
Below is a breakdown of the survey's 10 highest-scoring NOCs. All figures reflect the most recent information that Rigzone obtained from publicly available sources such as company websites and annual reports.
10. China National Offshore Oil Co. (CNOOC)
China's largest offshore oil and gas producer, CNOOC also operates in more than 40 countries and regions. CEO Yang Hua serves as CEO of the Beijing-based NOC, which is operated by the People's Republic of China's Assets Supervision and Administration Commission. In addition to oil and gas exploration and development, other CNOOC business units include refining and marketing, engineering and technical services, natural gas and power generation and financial services.
9. Ecopetrol
Bogota-based Empresa Colombiana de Petroleos (Ecopetrol S.A.) is Colombia's NOC. More than 88-percent owned by the Colombian government, Ecopetrol also counts pension funds and other investors as shareholders. CEO Felipe Bayón Pardo leads the approximately 8,700-strong company, which was established in 1951. Ecopetrol is the largest company in Colombia and the fourth-largest oil company in Latin America.
In 2018, Ecopetrol boasted proven hydrocarbon reserves of 1.73 billion barrels-equivalent and average production of 720,000 barrels of oil equivalent (boe) per day. During the same period, the company processed 372,900 barrels per day (bpd) of crude oil at its refineries in Cartagena and Barrancabermeja. Outside of Colombia, the company operates in Brazil, Peru and the United States. Recently, Ecopetrol unveiled plans to move into the U.S. onshore via a joint venture with Occidental Petroleum Corp. to develop Oxy-owned properties in the Permian Basin.
8. Gazprom
Created in 1993 by Russian presidential decree, Joint Stock Company Gazprom boasts the world's largest reserves of natural gas – 16 percent globally and 71 percent in Russia. Moreover, the Moscow-based company claims that it accounts for 12 percent and 69 percent of worldwide and Russian gas production, respectively. At the end of 2018, the Russian government and government-controlled companies owned 50.23 percent of Gazprom. American Depository Receipt (ADR) holders and other legal entities and individuals comprised the remaining shareholders.
The chief executive of Gazprom is Alexey Miller, Chairman of the Management Committee.
7. Kuwait Oil Co.
One of two Kuwait Petroleum Corp. subsidiaries to make Rigzone's list of top NOCs, Kuwait Oil Co. (KOC) traces its origins to 1934 and focuses on exploration, drilling and production of oil and natural gas within Kuwait. Moreover, state-owned KOC's activities include storing crude oil and delivering it to tanker vessels for export.
Led by CEO Emad Sultan, KOC boasted production capabilities of 4.25 million bpd of crude oil and 2 billion standard cubic feet per day and non-associated gas in the 2017/2018 fiscal year. In addition, the Al-Ahmadi, Kuwait-headquartered company drilled a total of 672 new wells during the period.
6. Petroleum Development Oman (PDO)
Petroleum Development Oman (PDO) is the primary exploration and production company in the Sultanate of Oman. Led by Managing Director Raoul Restucci, the Muscat-based NOC is 60-percent owned by Oman's government. Other PDO owners include Shell (34 percent), Total (4 percent) and Partex (2 percent). More than 8,500 employees representing 60-plus nationalities work for the firm.
PDO in 2018 reported production of 610,000 bpd of crude oil, 65,300 bpd of condensate and 64.8 million cubic meters per day of natural gas. During the same period, PDO supported a variety of social investment projects including helping students to become teachers, delivering water to local communities and even building a fish market.
1
2
View Full Article
Generated by readers, the comments included herein do not reflect the views and opinions of Rigzone. All comments are subject to editorial review. Off-topic, inappropriate or insulting comments will be removed.