The Oil and Gas Workforce in an IoT World
by Valerie Jones
|
Rigzone Staff
|
Thursday, March 08, 2018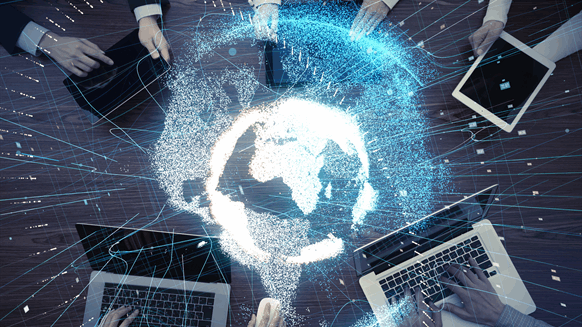 Emerson executives discuss what the oil and gas industry workforce looks like in a world of digital evolution during the CERAWeek by IHS Markit conference in Houston.
The oil and gas industry downturn gave companies the opportunity to reflect on what they had been doing, and more importantly, a mindset open to change.
Mike Train
Executive Director, Emerson Automation Solutions
"Companies got the permission to change and the innovation to move forward," Mike Train, executive president of Emerson Automation Solutions, told Rigzone on the sidelines of CERAWeek by IHS Markit conference.
Much of that change and innovation involves technology and automation by freeing people from many manual tasks and redeploying them in smarter ways.
"Instead of having to send folks on 'milk runs' – running to each of the well pads and just checking to make sure everything is okay – by pulling the diagnostics of all instruments, an engineer can come into the office and see exactly which well pads need to be visited and why," Laura Schafer, vice president of oil and gas for Emerson Flow Solutions, told Rigzone. "That way, the person who drives out to that well pad is prepared to possibly do maintenance rather than just check gauges."
While Train believes companies will continue to adopt digital technologies to cut costs, they will still be challenged to change old processes and ways of thinking.
"If you can't change your processes, nothing's going to change. You can buy all the technology you want, but it isn't going to have any impact," he said.
Laura Schafer
Vice President Oil and Gas, Emerson Flow Solutions
Existing workers will need new skillsets and the help of technologies, such as augmented reality, for example, can aid in training.
"Five to ten years from now, there will be more simulation in processes in training … bringing an operator up to speed or learning how to diagnose things faster," said Train. "There will be many ways to augment skillsets as we go further."
All of the aforementioned innovations will also improve safety.
"In talking with companies, many of them have a lot of trainees or green hats now," said Schafer. "To skill them up, particularly because the industry has a lot of folks retiring now who may not share their knowledge to this generation, having the ability to simulate the environment they're going to be in, allow them to walk through it and learn it before that actually get there is huge."
Young professionals, most who are digital natives, will catch on to the technologies quickly, but Train does have a concern.
"They'll see all the toys and technologies and be interested in them, but there's about 50 years of accumulated knowledge – mostly for safety work processes – in these tall stacks of papers," he said. "You have to sort through and digitalize or digitally filter those to make sure we don't lose that."
The industry is ready to welcome young professionals, as oil and gas competes with the Silicon Valley and tech companies of the world.
"There's a lot of opportunity here," said Train. "We need them to come be leaders."
Generated by readers, the comments included herein do not reflect the views and opinions of Rigzone. All comments are subject to editorial review. Off-topic, inappropriate or insulting comments will be removed.
MORE FROM THIS AUTHOR
Valerie Jones
Senior Editor | Rigzone