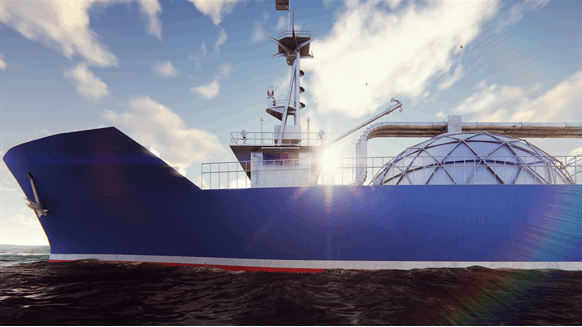 This picture of buoyant demand and supply is set to continue and accelerate in coming years.
Liquefied natural gas (LNG) met almost 11 percent of global energy demand last year and trade in LNG reached a record 316.5 million tonnes, helped by increased supply from Australia, the U.S. and Russia, and growing demand from 37 countries. This picture of buoyant demand and supply is set to continue and even accelerate in coming years.
The latest Wood Mackenzie "Global Gas Markets long-term Outlook 2018: LNG Supply" authored by Giles Farrer, expects that capital spending on LNG plants and upstream infrastructure will total more than $200 billion from 2019 to 2025, to be shared by Canada, Mozambique, Qatar and the U.S., which is scheduled to see a flood of shale gas development. Industry experts maintain that rising world demand for LNG will require the sanctioning of around 60 million tonnes of new gasification facilities by 2020 and a further 100-plus million tonnes between 2020 and 2025 to ensure that markets in such countries as China, India and Pakistan are adequately supplied. Wood Mackenzie global LNG supply research director Giles Farrer said, "The LNG boom is back".
New projects
There is already a pipeline of new LNG export capacity projects planned or under development outside the US including the sanctioning of about 30.9 million tonnes of LNG capacity in Australia's Papua New Guinea at a cost of $39.5 billion according to Rystad Energy analyst Readul Islam.
As for the Middle East, Qatar, currently the still world's biggest LNG producer, is preparing to expand its export facilities by around one third to produce 100-108 million tonnes per year (mtpa) by 2023-2024.
And in Southern Africa, Exxon is involved with Eni to develop an $11.2-billion LNG export facility to capitalize on Mozambique's Rovuma basin which is estimated to contain a massive 85 trillion cubic feet of gas.
In West Africa, BP and partner Kosmos Energy will decide on the development of the Tortue field off the coast of Senegal and Mauritania, which received a final investment decision for phase one of its LNG export project last December.
Meanwhile in North America, Shell has decided to go ahead with its $40-billion Kitimat LNG scheme in British Columbia.
However, Wood Mackenzie analyst Liam Kelleher said, "there were some concerns of cost overruns after the previous boom averaged blowout rates of 33 percent. Just 10 percent of all LNG projects were built under budget, and more than half had construction delays."
On the demand side
In the wake of Fukushima and the closure of nuclear reactors, Japan temporarily became the world's leading market for LNG, importing around 11 billion cubic feet per day (Bcf/d) followed by South Korea and lastly China, whose imports averaged just 5 Bcf/d during 2017, driven principally by government policies designed to reduce its chronic problem of severe air pollution.
Europe is an important balancing market for LNG, switching between piped gas and LNG, according to spot market differences between Asian and European markets. The conventional scenario envisages gas production declining and dependency on gas imports rising from about 50 percent now to 75 percent by 2040. Whilst Russian piped gas imports are likely to keep their cost advantage over imported LNG from the U.S. and Qatar, energy security concerns should ensure an active interest in maintaining LNG imports. However, an interesting scenario is offered by Rudolf Huber, President LNG Austria: "If the European heavy transport market alone decided to adopt LNG as the fuel of choice because they want to clear our skies and still remain competitive beyond the homeopathic measures we have now, it might mop up the LNG 200 billion worth of projects provide with ease."
The growth in LNG production will depend on the availability of capital for construction of gasification export facilities and associated infrastructure alongside Asia's rate of economic development and change towards a world of less carbon to combat global warming.
Generated by readers, the comments included herein do not reflect the views and opinions of Rigzone. All comments are subject to editorial review. Off-topic, inappropriate or insulting comments will be removed.