Texas to 'Shatter' Oil Production Records with Fewer Rigs and Workers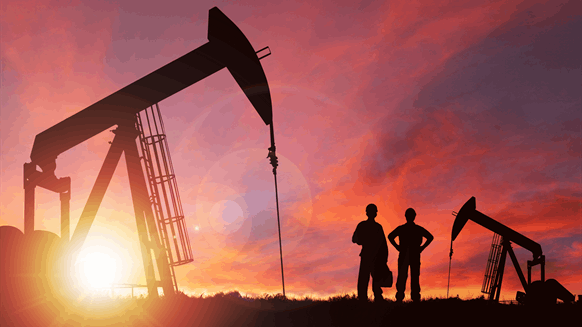 Economist Karr Ingham shares the mid-year results from the Texas Petro Index and production is doing well.
Six months ago, Texas was on the cusp of breaking oil production records. In June, crude oil production reached 4.3 million barrels per day, putting Texas on track to "shatter" the previous record of 1.263 billion barrels in 1972.
"We're going to blow that record out of the water," Karr Ingham, Texas oil economist and creator of the Texas Petro Index (TPI), said during a mid-year briefing in Houston July 26. "Both crude and natural gas production will easily set new annual production records in 2018."
Ingham called the natural gas production "extraordinary" considering about 92 percent of the active rigs in Texas are drilling for crude oil. He said natural gas production growth is largely accidental, produced from wells that are drilled to produce crude oil.
"Over 35 percent of Texas natural gas production is classified by the Railroad Commission as 'casinghead gas' or gas associated with crude oil production," he said. "Natural gas production growth is not the current goal of Texas oil and gas producers and continued production expansion is pushing prices lower, especially in the Permian where the takeaway capacity for that gas is increasingly insufficient."
Texas Leads the Way
At mid-year 2018 (end of June), the Texas upstream oil and gas industry had added 47,000 jobs after losing more than 115,000 during the downturn. The Texas Workforce Commission reports that Texas added 4,800 upstream jobs in June alone. Additionally, 80 rigs have been added since the beginning of the year and the statewide monthly average rig count in June was 534. Still, the employment numbers and rig count are not at the levels seen during the peak in November 2014.
"It simply takes fewer rigs and fewer people to produce ever higher amounts of crude oil and natural gas," Ingham said. He refers to the efficiencies achieved by producers, service companies and drilling companies as "stunning" and said those efficiencies were partly born from necessity due to the severity of the downturn.
"Texas continues to dominate the upstream energy landscape in 2018," said Ingham.
At the midpoint of 2018, Texas contributed 40 percent of U.S. crude oil production and 30 percent of natural gas production. More than 50 percent of working rigs in the U.S. are in Texas and nearly 54 percent of all U.S. direct upstream oil and gas jobs are in Texas.
Generated by readers, the comments included herein do not reflect the views and opinions of Rigzone. All comments are subject to editorial review. Off-topic, inappropriate or insulting comments will be removed.