Texas Oil Production Expected to Rise Monthly in 2020
|
Thursday, February 20, 2020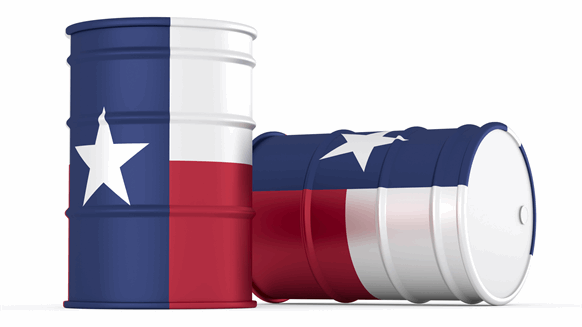 However, the pace of the growth is set to decelerate naturally over the next few months, according to a Rystad Energy analysis.
Oil production in Texas is expected to rise almost every month this year thanks to statewide fracking activity, according to a Rystad Energy analysis. Despite this, the pace of the growth is set to decelerate naturally over the next few months during a new phase of steepening in base decline.
In December, oil production in the state climbed to approximately 5.4 million bpd. While the state's oil output is reportedly 4.5 million bpd for the month, Rystad's assessment of reporting delays and activity trends finds that additional production of about 900,000 bpd is still unreported.
"We see a monthly addition of 70,000 bpd in December in Texas. A flat oil production would be the most conservative scenario," Rystad Energy's Senior Shale Analyst Alexandre Ramos-Peon said in a statement, noting that Eagle Ford area was the largest contributor to the increase.
Rystad estimates that South Texas oil production increased by 50,000 bpd in December; Permian output added 20,000 to 30,000 bpd.
The firm's preliminary data indicates an outage of about 50,000 bpd for ExxonMobil, based just on wells with production reports through December 2019. According to Rystad, many of ExxonMobil's Permian producing leases showed signs of production irregularities in December 2019, though it has not been determined if this was an irregularity or a temporary peculiarity in data.
According to the firm's analysis, new production additions from each monthly vintage in the state remain at 400,000 bpd. Also, statewide first-month base decline in Texas has jumped from 150,000‒200,000 bpd in 2017 but stayed at 350,000 bpd or below throughout 2H 2019.
"Hence, the statewide activity level remains sufficient to achieve production additions almost every month," the firm said in a written statement. However, additional increases in activity or improvements in average well productivity would be needed to achieve material growth in 1Q 2020, the firm concluded.
To contact the author, email bertie.taylor@rigzone.com.
Generated by readers, the comments included herein do not reflect the views and opinions of Rigzone. All comments are subject to editorial review. Off-topic, inappropriate or insulting comments will be removed.