Texas Governor Requests Presidential Disaster Declaration
|
Thursday, February 09, 2023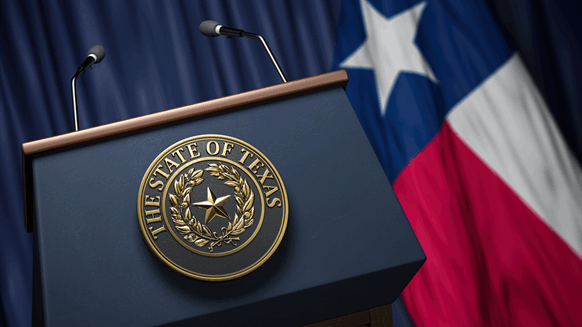 'This incident is of such severity and magnitude that an effective response is beyond the capabilities of the state'.
Texas Governor Greg Abbott requested a Presidential disaster declaration for the state of Texas in a letter sent to U.S. President Joe Biden on February 7.
"I respectfully request that you declare a major disaster for the State of Texas as a result of severe storms and tornadoes that struck Harris, Jefferson, Liberty, and Orange Counties on January 24," Abbott stated in the letter.
"Pursuant to 44 C.F.R. § 206.36, I have determined that this incident is of such severity and magnitude that an effective response is beyond the capabilities of the state and affected local governments and that supplementary federal assistance is necessary to save lives and to protect property, public health, and safety," Abbott added in the letter.
The request to declare a major disaster for Texas is in response to an analysis of damage sustained in the counties impacted by tornadic activity, the governor's office highlighted, adding that this followed a review of disaster damage information self-reported by Texans through Individual State of Texas Assessment Tool (iSTAT) surveys.
If Abbott's request for a Presidential Disaster Declaration is granted, residents of designated counties would be eligible for Individual Assistance, including the Individuals and Households Programs (IA); Other Needs Assistance (ONA); Crisis Counseling; Disaster Unemployment Assistance; Disaster Legal Assistance; Disaster Case Management; and Direct Federal Assistance, the governor's office outlined.
On January 26, Abbott issued a disaster declaration for impacted communities in Southeast Texas and on January 30, he updated the declaration to include additional affected counties, the governor's office highlighted.
At the time of writing, the briefing room section of the White House website has made no mention of Abbott's recent disaster declaration request. On February 6, the briefing room section revealed that Biden had approved a North Dakota disaster declaration.
"President Joseph R. Biden, Jr. declared that a major disaster exists in the State of North Dakota and ordered Federal assistance to supplement state, tribal, and local recovery efforts in the areas affected by a severe winter storm, snowstorm, and straight-line winds from November 9 to November 11, 2022," a statement posted on the White House website noted.
Texas NatGas Supply Chain Tested
In a statement posted on its website on February 6, the Texas Railroad Commission (RRC) said that, for the second time this winter, the state's natural gas supply chain was tested and performed as needed to keep heating and lights on "for millions and millions" of Texans.
"Winter Storm Mara swept through Midland, the Dallas-Fort Worth area, and into San Antonio, covering several gas production basins in the state," the RRC said in the statement.
"The key elements of gas supply – production, pipeline transportation and underground storage – all performed up to par during the arctic blast," the RRC added.
In the statement, the RRC highlighted that Texas' daily onshore gas production averaged more than 25 billion cubic feet per day from January 31 to February 2. The organization pointed out that this exceeded the daily average seen during Winter Storm Elliott in late December and the daily gas production for all of last winter.
In a statement posted on its website on February 1, the Texas Oil & Gas Association (TXOGA) outlined that Texas natural gas production, processing, transmission, and storage sectors continued "durable performance due to industry efforts".
"Natural gas supply is holding strong," TXOGA said in an organization statement at the time.
"Most weather-related issues are due to icy road conditions. There is some production loss within normal conditions. Most issues in the field are due to icy road conditions," TXOGA added in the statement.
TXOGA's site notes that the organization is the oldest and largest oil and gas trade association in Texas "representing every facet of the industry". The RRC is the state agency with primary regulatory jurisdiction over the oil and natural gas industry, pipeline transporters, natural gas and hazardous liquid pipeline industry, natural gas utilities, the LP-gas industry, and coal and uranium surface mining operations, the RRC site states.
To contact the author, email andreas.exarheas@rigzone.com
What do you think? We'd love to hear from you, join the conversation on the Rigzone Energy Network.

The Rigzone Energy Network is a new social experience created for you and all energy professionals to Speak Up about our industry, share knowledge, connect with peers and industry insiders and engage in a professional community that will empower your career in energy.