Texas Governments Gain from US 'Global Power Broker' Status
by Matthew V. Veazey
|
Rigzone Staff
|
Tuesday, February 27, 2018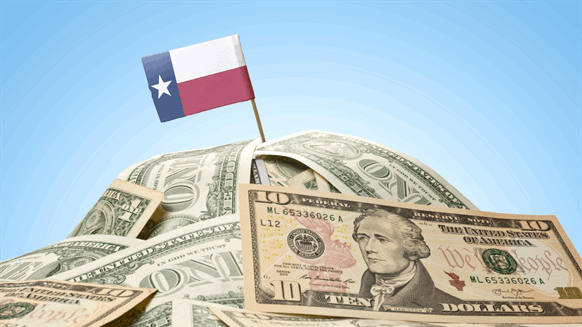 Trade group reports state, local governments garnered approximately 17% more year-on-year in taxes, royalties.
The Texas oil and natural gas industry paid slightly more than $11 billion in state and local taxes and state royalties in fiscal year 2017, the Texas Oil & Gas Association (TXOGA) reported Tuesday.
The TXOGA-provided figure for fiscal 2017 represents an approximately 17-percent increase from the $9.4 billion the industry paid in fiscal 2016.
"The remarkable and sustained recovery of the Texas oil and natural gas industry is benefiting our state and local economies, providing the equivalent of $30 million a day for our schools, universities, roads and first responders," Todd Staples, TXOGA's president, said in a written statement. "What's happening in Texas is the primary reason that our nation is a global power broker."
According to TXOGA, Texas school districts in fiscal 2017 received $1.1 billion in property taxes from mineral properties producing oil and natural gas, pipelines and gas utilities. Moreover, the organization noted the Lone Star State's counties received $336 million in oil and gas mineral property taxes. TXOGA's website list more detailed property tax totals by county and independent school district.
Texas Connection to National Milestones
Staples also used the occasion of the TXOGA announcement to link various U.S. energy-related milestones his state's oil and gas production, pipeline infrastructure and export and refining capabilities activities.
"Recently released data shows that Texas produced nearly 40 percent of the nation's crude oil when the United States crossed the 10 million-barrel per day threshold," Staples pointed out. "Our crude oil imports are down 20 percent from 2006 and last month, our crude oil exports were more than double the average in January 2017. The U.S. became a net exporter of natural gas in 2017 and those exports are expected to increase more than 10-fold in 2019 – thanks in part to the seven LNG facilities planned or under construction in Texas."
Staples added that Texas' energy achievements stem from "innovation and consistent regulations and policies."
"Maintaining state policies that allow us to expand our energy infrastructure – including pipelines, tanks, terminals and refining capacity – is the best way to increase energy reliability and security and to protect our fuel supply in the event of a natural disaster," said the TXOGA president.
Also, Staples provided TXOGA's perspective on North American Free Trade Agreement (NAFTA) negotiations, which resumed Monday in Mexico City. He called NAFTA "the essential framework" that has enabled the oil and gas industry to enjoy strong growth and prosperity and support hundreds of thousands of Texas jobs.
"We have a lot at stake as NAFTA negotiations continue because Texas is home not only to oil and natural gas and the pipelines that transport it to Mexico, but also the refineries and petrochemical plants that make the products we export to our neighbors," Staples said. "It is imperative to maintain the NAFTA provisions that enforce fair trade practices and allow our industry to remain cooperative, grow jobs and invest with certainty. Sound, science-based policy at the state and federal levels will allow the Texas oil and natural gas industry to continue to secure our economy, our environment and our future."
Generated by readers, the comments included herein do not reflect the views and opinions of Rigzone. All comments are subject to editorial review. Off-topic, inappropriate or insulting comments will be removed.