Texas Deepwater Oil Port Project Advances
|
Monday, December 09, 2019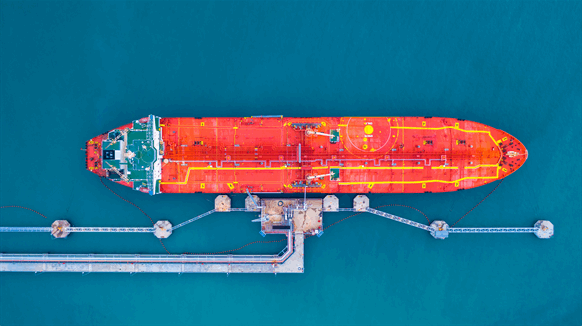 Enbridge will gain an option to purchase a stake in Enterprise's Sea Port Oil Terminal if the offshore Texas project wins a deepwater port license.
Enbridge Inc. and Enterprise Products Partners L.P. have agreed to jointly develop and market a deepwater offshore crude oil export terminal capable of fully loading very large crude carrier (VLCC) vessels, Enbridge reported Monday.
The companies have signed a letter of intent under which they will finalize an equity participation agreement granting Enbridge an option to purchase an ownership interest in Enterprise's Sea Port Oil Terminal (SPOT) if SPOT receives a deepwater port license.
According to a written statement from Enterprise, the U.S. Maritime Administration (MARAD) is reviewing the SPOT application and the project's construction hinges on obtaining required approvals and licenses. Enterprise also noted the SPOT project would comprise onshore and offshore facilities including a fixed platform approximately 30 nautical miles off the Brazoria County, Texas, coast in approximately 115 feet of water. The company added that SPOT would be designed to load VLCCs at rates of approximately 85,000 barrels per hour – equating to approximately 2 million barrels per day.
"We are pleased to be teaming up with Enterprise to bring large scale, integrated export solutions to the market," Enbridge President and CEO Al Monaco stated. "This collaboration leverages our jointly owned and highly competitive Seaway system and capitalizes on each of our capabilities to drive out highly capital efficient export infrastructure for our customers."
Monaco also noted that Enbridge's involvement in SPOT will help the company provide its North American light and heavy crude customers with access to the Houston-area refining market and growing global demand.
"We are very pleased to work with Enbridge to jointly develop a deepwater port in the Gulf of Mexico to support growing exports of U.S. crude oil," commented A.J. "Jim" Teague, CEO of Enterprise's general partner. "We value Enbridge's expertise and resources as we focus our collective commercial development efforts on making the SPOT project a reality."
Enbridge also stated that the Texas COLT deepwater oil export project it has proposed jointly with Oiltanking Partners should be "well positioned to proceed" as the crude oil export market grows. Moreover, the firm reported Monday that it will advance development of a new wholly owned facility in the Houston area: Jones Creek Crude Oil Storage Terminal.
Jones Creek will boast up to 15 million barrels of storage as well as access to crude from all major North American production basins, Enbridge stated. Moreover, the company noted the new terminal will be fully integrated with the Seaway Pipeline system to allow for access to Houston-area refineries and existing and future export facilities. As Rigzone reported last month, Enterprise and Enbridge will soon launch an open season for capacity on an expanded Seaway system.
"The combination of the proposed Seaway expansion, the development of our Jones Creek Storage Terminal and our expanded offshore VLCC (port infrastructure) positions us nicely and advances our strategy to enhance and extend North America's premier crude oil value chain – one that stretches from western Canada to the Midwest and through to the Midcontinent and U.S. Gulf Coast," concluded Monaco. "It also fits very well with our broader goal to further build out our export infrastructure position in both crude oil and natural gas."
To contact the author, email mveazey@rigzone.com.
Generated by readers, the comments included herein do not reflect the views and opinions of Rigzone. All comments are subject to editorial review. Off-topic, inappropriate or insulting comments will be removed.