Texas College Steps Up Petchems Training
|
Tuesday, November 19, 2019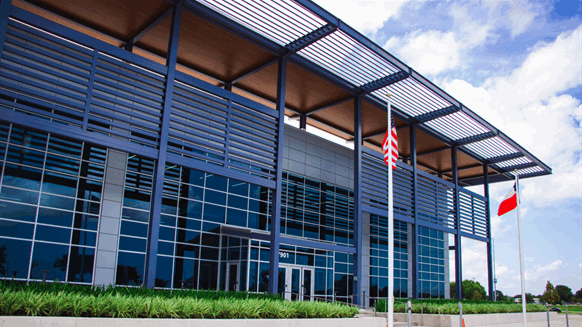 San Jac College's new LyondellBasell Center for Petrochemical, Energy and Technology, located east of Houston. PHOTO SOURCE: Eaton
Located east of Houston amid the largest petrochemical manufacturing region in the United States, San Jacinto College (San Jac) has provided oil and gas workforce training for nearly six decades. In September of this year, the community college formally added another dimension to its educational offering: the $60 million LyondellBasell Center for Petrochemical, Energy and Technology (CPET).
Jim Griffin, associate vice chancellor and senior vice president at CPET, told Rigzone the facility was "designed by industry, for industry" over four-plus years prior to its recent grand opening. More than 20 companies contributed funding and expertise to develop a training facility that emphasizes aligning workforce education with industry requirements, he said.
"(W)e were able to not only develop a state-of-the art facility, but also develop curriculum that directly addresses the current needs of the workforce," said Griffin.
According to San Jac, 90 companies operate 132 plants within a 13-mile radius of CPET. The extent of petrochemical manufacturing locally and beyond is poised to grow.
"Seventy billion in capital spending on the Gulf Coast means new plants and new technologies, and our industry partners have helped us craft programs that can help bridge that gap," Griffin said. "In the workforce, there's a fair amount of jobs to be filled, as well as construction of these petrochemical facilities, and we're right in the heart of it all to provide specific training and skilled graduates."
Griffin added that CPET is taking a two-tiered approach to petchems education. First, he pointed out that nearly 3,000 students are enrolled in 75 courses based on a credit-hour system. These courses fall into the following five programs aligned with various facets of a petrochemicals plant:
Process technology
Instrumentation/analyzer technology
Electrical technology
Nondestructive testing
Environmental health and safety technology
In addition to the credit-hour programs, CPET offers incumbent training that focuses more on specific employer needs, Griffin added.
"Incumbent worker training will also be critical in the future so we have boot camps for new engineers, boot camps for new operators and we have a lot of new tools out there that owners and contractors will be using to upskill the current workforce," he said.
One CPET partner that helped to provide those "new tools" is power management firm Eaton, which contributed more than $2 million to the center's development and donated consulting and equipment. Moreover, Eaton employees Amber Wright and Allan Clark donated their time to design the San Jac facility's electrical labs. Wright and Clark modeled the labs after the Eaton Experience Center in Houston – a hands-on electrical systems training facility that is also open to San Jac students for supplementary skills development.
"Our work with San Jacinto is part of a broader effort and emphasis on hands-on education and training, advancing petrochemical and energy industry workforce development in the Gulf Coast," Vinay Varma, vice president for oil and gas with Eaton Electrical Sector, told Rigzone. "I know the industry requires additional hands-on education programs to help prepare the current and next-generation professionals for success."
Varma added that CPET's lab environments "support true-to-application training to help build a pipeline of skilled industry talent ready to join the workforce."
From his perspective with a company that serves oil and gas and petrochemicals clients on the Gulf Coast and beyond, Varma observed that facilities such as CPET help to meet a significant industry workforce demand.
"I've seen a real need for more training, for both new people coming into the industry and experienced professionals," he said. "Education programs that provide critical skills training better position our customers to take advantage of new solutions maximizing production, enhancing safety and increasing productivity."
Varma also noted that he sees considerable career opportunities in the Houston-area petrochemicals sector – in large part from demographic trends.
"In the Texas Gulf Coast region along, $40 billion in new projects have been announced, with 11,000 jobs required per year to satisfy petrochemical industry growth," he said. "But with more than 50 percent of the current employee base retiring over the next few years, a substantial skills gap is projected."
Beyond the issue of looming retirements, however, Varma pointed out the nature of work at petrochemical plants and at other facilities is changing.
"(T)he landscape is changing thanks to rapid technology innovation," Varma explained. "The next generation of oil and gas professionals must respond to technologies old and new – operating, diagnosing, retrofitting and maintaining systems installed decades ago in addition to designing and implementing next-level operations technologies."
To contact the author, email mveazey@rigzone.com.
Generated by readers, the comments included herein do not reflect the views and opinions of Rigzone. All comments are subject to editorial review. Off-topic, inappropriate or insulting comments will be removed.