Tellurian Launches Open Season for Haynesville/Bossier Pipeline
by Rigzone Staff
|
Wednesday, February 21, 2018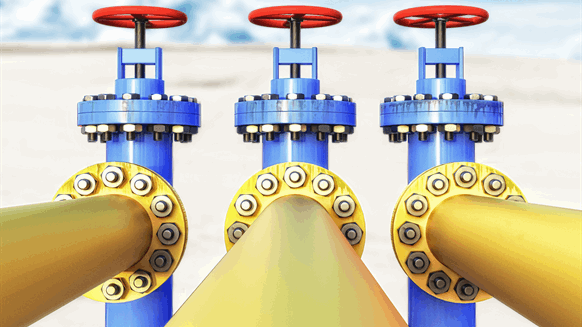 The $1.4 billion project could begin service in mid-2023, says company.
Tellurian subsidiary Haynesville Global Access Pipeline LLC (HGAP) has kicked off a non-binding open season for a proposed 42-inch natural gas pipeline linking the Haynesville and Bossier shale production region to Southwest Louisiana, Tellurian reported Wednesday.
"HGAP will connect the Haynesville Shale with growing markets in Southwest Louisiana, where natural gas demand is expected to triple, reaching approximately 12 billion cubic feet per day by 2025," Tellurian President and CEO Meg Gentle said in a written statement.
According to Tellurian, the estimated $1.4 billion HGAP project would be able to transport up to 2 billion cubic feet per day (Bcf/d) of natural gas. The project's website states that other pipeline components would include:
An approximately 23,000-horsepower compressor station
18 meter stations
7.3 Bcf/d receipt capacity
3.7 Bcf/d delivery capacity
The roughly 200-mile-long conduit would interconnect with the Midcontinent Express and Gulf Crossing pipelines in Claiborne Parish, La., and to other pipelines near Gillis in Calcasieu Parish, La., the company said. Moreover, Tellurian stated the proposed pipeline system would link to industrial facilities and other third-party pipelines via multiple receipt and delivery locations.
Tellurian is proposing HGAP in conjunction with its broader Tellurian Pipeline Network proposal, which the company said represents a total U.S. infrastructure investment of $7 billion that will create an estimated 15,000 jobs in Louisiana and Texas. In addition, the company pointed out the network is incremental to the $15.2 billion investment it plans for the proposed Driftwood LNG export facility near Lake Charles, La.
Tellurian stated the HGAP open season will conclude at 4 p.m. Central time on Friday, April 6, 2018. The company projects a 2022 construction start date for HGAP and a mid-2023 in-service date. According to the HGAP website, other anticipated project milestones include:
January 2019: Pre-filing with the Federal Energy Regulatory Commission (FERC)
2020: Detailed design and engineering; major materials and right-of-way procurement
2021: Receiving FERC certificate
"Louisiana continues to serve as the U.S. natural gas market hub, requiring additional infrastructure to efficiently deliver gas from fields in the Northeast U.S., the Midwest and Texas to local and global markets," said Gentle. "HGAP will improve the connection between North and Southwest Louisiana, debottlenecking existing pipeline routes and providing shippers access to expanding markets."
Generated by readers, the comments included herein do not reflect the views and opinions of Rigzone. All comments are subject to editorial review. Off-topic, inappropriate or insulting comments will be removed.