TECH SHOWCASE: Modular Gas-to-Petchems Plant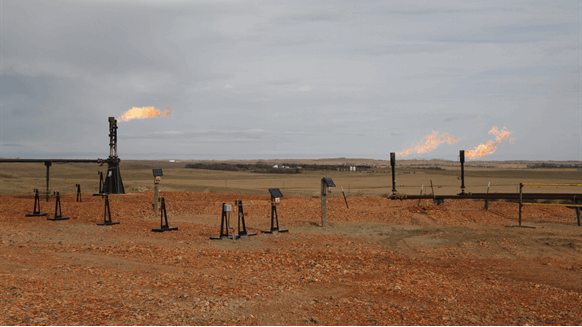 Technology may offer direct solution to flaring associated gas.
Researchers from West Virginia University (WVU), the University of Pittsburgh (Pitt), the U.S. Department of Energy's National Energy Technology Laboratory (NETL) and Shell are developing a technology platform to turn stranded natural gas directly into aromatics, C2-C4 olefins and hydrogen – all key chemical intermediates for manufacturing polymers and specialty chemicals.
A process to turn natural gas into the petrochemicals already exists, but this "indirect synthesis route" requires three steps and presents challenges in terms of economics and energy usage, according to WVU chemical engineering professor John Hu, who is leading the four-year research effort. Indirect synthesis comprises converting natural gas to syngas, syngas to methanol and then methanol to chemicals, he added.
"It is capital-intensive and energy-inefficient because of the syngas production involved," Hu explained. "In addition, the indirect synthesis route doesn't scale down economically to the production capacity of a stranded gas field."
Hu said that WVU and its partners will build a pilot-scale plant that eliminates the syngas step and directly converts natural gas to chemicals – a more cost-effective way to monetize associated natural gas that would otherwise be flared. The modular plant, which will boast a design suitable for shipping to remote oil and gas fields via truck or rail, will incorporate catalytic materials that Pitt is developing. A microwave reactor that WVU and NETL are designing and building will integrate the materials. Shell will contribute its process and reactor modeling capabilities as well as its expertise in the areas of engineering scale-up and commercial demonstration.
"The technology we develop is based on direct conversion of natural gas to petrochemicals without going through syngas," Hu said. "Both capital and operating costs are reduced due to the elimination of the syngas production step. Energy efficiency is increased as well."
Hu said the plant's microwave catalytic reactor entails "synergistically" integrating microwave irradiation into catalytic processing.
"Due to selective bond activation via using electromagnetic energy, which is different from conventional heating, selectivity to desired products increases," Hu explained. "The economic benefit is realized through improved carbon efficiency."
Furthermore, Hu pointed out that integrating microwave irradiation into the catalytic conversion of methane facilitates process intensification and allows high productivity at a small scale.
"This has overcome the disadvantages of conventional technology where scale-down is always an issue," Hu concluded. "On the other hand, our technology does not only work on a small scale. It can be utilized at a large scale or improve an existing large-scale operation."
Generated by readers, the comments included herein do not reflect the views and opinions of Rigzone. All comments are subject to editorial review. Off-topic, inappropriate or insulting comments will be removed.