Take a Virtual Field Trip to An Offshore Platform
|
Valerie Jones & Matthew V. Veazey
|
Friday, August 10, 2018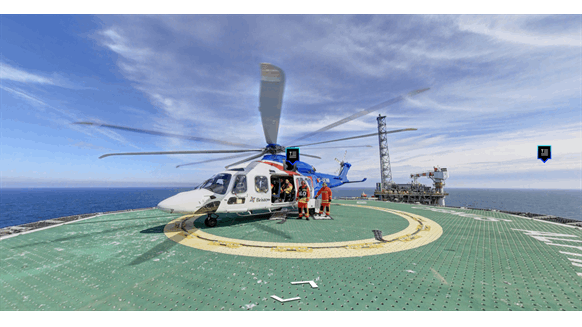 A Google Street View depiction of the Alpha platform's helideck. SOURCE: Neptune Energy
Neptune Energy, operator of the Cygnus natural gas field on the U.K. Continental Shelf (UKCS), and its partner Spirit Energy unveiled a Google Street View tour of the Alpha and Bravo installations at Cygnus Thursday. According to the companies, Street View had until then never ventured to an offshore oil and gas platform.
The Cygnus Street View experience will be used as energy and STEM content for school and college curriculum as well as for training programs within the industry.
"We have already secured strong interest from the university sector, starting with Aberdeen University and Robert Gordon University," a Neptune spokesperson told Rigzone. "We are also working with the Aberdeen & Grampian Chamber of Commerce and Developing the Young Workforce to target schools in Scotland."
The Oil and Gas Technology Centre and OPITO are also planning to use the Cygnus Street View Experience. In addition, Neptune Energy and Spirit Energy plan to work with the team from EEEGR to roll it out to schools and colleges across East Anglia.
A Neptune spokesman told Rigzone the new online tour is an attempt to make facts about the oil and gas industry more accessible to the public, particularly to the younger generation.
"We believe that the current generation of school and college leavers has grown up with less visibility and understanding, than their parents, of where their energy comes from," the spokesman said. "Time and resource pressures mean that field trips to energy and other infrastructure projects are increasingly rare, whilst programming and content for young people has become less physical and more virtual."
The virtual tour includes visits to the Cygnus complex's helipad, wellhead, control room, accommodation and fitness, leisure and restaurant spaces, Neptune stated. In addition, users can "walk" across the bridges linking the Alpha and Bravo platforms. It also features interviews with onboard staff such as the offshore installation manager, lead production manager, medical team and resident chef, Spirit Energy noted.
Although the Street View tour highlights a variety of locations on Alpha and Bravo, Neptune and Spirit pointed out that some places are off-limits given safety, security and confidentiality considerations.
"Furthermore, our staff were fully informed in advance of the planned filming, interviews were optional and those involved were consulted in more detail about the potential personal implications of being posted on Google in perpetuity," the Neptune spokesman said.
Nevertheless, the spokesman expressed confidence that the virtual tour will provide visitors a much better understanding of life offshore.
"We often find it difficult to engage on key issues with many audiences if, first, we have to fill that knowledge gap," the spokesman said. "We hope that 'speaking' to this generation in its own technological language will help improve energy literacy."
Do Neptune and Spirit plan to add other offshore facilities to their Street View lineup?
"The partners are keen to embrace technology and to use it to capture the imagination of our stakeholders and as a potential training tool, so we will consider additional assets for Street View and/or other technologies, although there are no firm plans at the moment," the Neptune spokesman concluded.
Generated by readers, the comments included herein do not reflect the views and opinions of Rigzone. All comments are subject to editorial review. Off-topic, inappropriate or insulting comments will be removed.