Survey Reveals World's Top Oilfield Services Companies
|
Thursday, September 05, 2019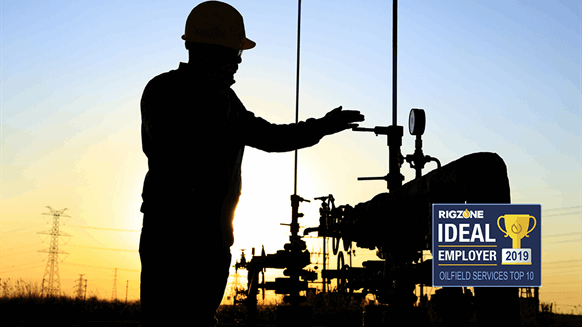 Respondents to Rigzone's Ideal Employer Survey selected their top picks for oilfield services companies.
​Employment within the oilfield services sector has been a bit of a mixed bag in recent years as energy companies have adjusted to pricing and workflows in the industry's 'new normal.'
More than 11,000 oil and gas industry professionals revealed which companies they found most desirable in Rigzone's 2019 Ideal Employer Survey. With respondents from more than 100 countries, Rigzone's survey reveals picks for the top oilfield services companies around the globe.
For the third consecutive year, Halliburton Company was selected as the top company among oilfield services companies. They edged out Schlumberger Limited and Baker Hughes, a GE Company, which ranked second and third, respectively.
Lawrence Pope, Halliburton's chief administrative officer, spoke with Rigzone to discuss the company's efforts to create a desirable workplace and why the No. 1 ranking now challenges them even more.
Rigzone: How does Halliburton maintain its appeal and brand reputation, even when oilfield services companies are faced with industry challenges?
Pope: It's actually pretty simple. The value proposition Halliburton offers is, "we collaborate and engineer solutions to maximize asset value for our customers." To us, that's not just a series of words. It's a carefully crafted value proposition we apply universally throughout the company. What I think we do very well is listening to our employees and putting programs in place that will help them have a good experience and create an even more engaging work environment for them. That journey never ends. It's great to be number one on the list three years in a row, but now there's a new challenge for us. We want to make sure we stay number one and that will cause us to self-reflect and challenge ourselves on a continual basis … how do we continue to make Halliburton a really terrific place to work for our employees?
Rigzone: What opportunities lie ahead for the oilfield services sector?
Pope: I'm very bullish on the oilfield services sector as well as the energy space over the long term, especially if you look at the demand for oil and gas well into the future. I tell our prospective employees and students I speak to at the universities that they can make a terrific career in the energy industry and specifically within Halliburton. Now we must listen to the very diverse population we have – not just diverse in terms of ethnicity, nationality and gender – but also the multigenerational diversity we have within our organization. We're trying to create an environment that's going to appeal to all.
Rigzone: What exciting things are happening at Halliburton?
Pope: Strategically, we've made the decision that – even through ups and downs – it is critical to our long-term success that we maintain a healthy pipeline in our hiring. So even during the downturn, we are continuing to recruit from universities and reinforce our brand on campus. And we'll continue to do so. This past summer, we had 200 interns working for us and we provided a challenging environment for them and meaningful projects to work on, so they got a true taste of what life is like in the energy industry, specifically at Halliburton. Many of them left after their junior year with full-time offers to work for Halliburton after their senior year.
Other exciting things we've done recently include a rollout of a new, innovative family care program designed particularly to appeal to young parents and be inclusive of both men and women. When someone has a child, they can now take additional time off during the following year for what we call 'parental bonding leave.' We've also modified our sick time policy. And we realize the days of households with just a single breadwinner are antiquated, so we try to facilitate movement of our employees by putting dual-career programs in place to support the spouse when an employee is moving across the world.
Generated by readers, the comments included herein do not reflect the views and opinions of Rigzone. All comments are subject to editorial review. Off-topic, inappropriate or insulting comments will be removed.