Survey Reveals Top 10 Ideal Upstream Employers for 2019
|
Wednesday, August 14, 2019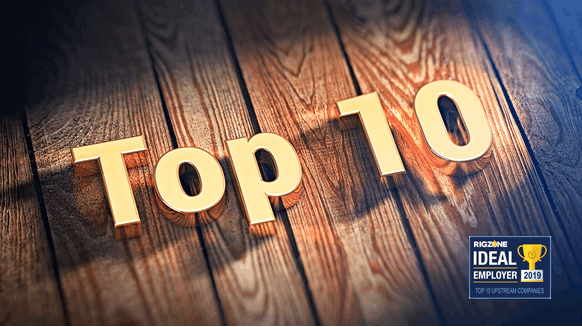 More than 11,000 survey participants selected their favorite upstream employers.
Upstream employment has been particularly volatile during the past half-decade, but many continue to find exploration and production companies desirable places to work. Through its 2019 Ideal Employer Survey, Rigzone has gauged which upstream companies enjoy the highest regard among oil and gas professionals. In all, 11,054 survey participants from 1,800 different companies in 100 countries selected their favorite upstream employers. Individuals completing the survey, which Rigzone conducted from November 2018 to March 2019 using the Sawtooth Software online survey tool, responded to a variety of questions given market conditions.
What follows is a countdown of the Top 10 highest-scoring upstream companies, ranked by people who actually work in the upstream sector. All figures reflect the most recent information that Rigzone obtained from publicly available sources such as company websites and annual reports.
10. Transocean
Entering Rigzone's Top 10 Upstream list for the latest Ideal Employer Survey is Transocean Ltd., one of the world's leading offshore drilling contractors.
Transocean operates 48 mobile offshore drilling units. Its fleet comprises 31 ultra-deepwater floaters, 13 harsh environment floaters and four midwater floaters. Also, the Steinhausen, Switzerland-headquartered company reports that four ultra-deepwater drillships are under construction as is a harsh-environment semisubmersible that it partially owns.
Jeremy D. Thigpen serves as president and CEO of Transocean.
9. Total
One of the largest publicly traded integrated oil companies in the world, Paris-based Total employs approximately 100,000 people and maintains a presence in more than 130 countries. Patrick Pouyanné serves as chairman and CEO.
In 2018 Total produced 2.8 million barrels of oil equivalent (boe) per day from assets in the Americas, Africa, the Middle East, Asia-Pacific and Europe and the Commonwealth of Independent States. In addition to its extensive upstream activities, Total engages in refining, petrochemicals and fuel and lubricant marketing as well as renewables.
8. Saudi Aramco
The only national oil company (NOC) to make Rigzone's list of the top 10 upstream employers, Saudi Arabian Oil Co. (Saudi Aramco) was established in 1933 and is fully owned by the Saudi Arabian government. That might change, however, if the Kingdom proceeds with efforts to sell a minority stake in the company to investors via an initial public offering.
Led by CEO Amin H. Nasser, Saudi Aramco boasts a global workforce of approximately 65,000. The NOC reports reserves of 261.1 billion barrels of crude oil and condensate and 297.6 trillion standard cubic feet of natural gas. Also, in 2018 the company on average produced 13.6 million boe per day.
7. Baker Hughes a GE Company
Baker Hughes, a GE company (BHGE) calls itself "the world's first and only fullstream oil and gas company" catering to the needs of the entire value chain. The company's upstream product and services lineup covers evaluation, drilling, completions, production and optimization, well intervention, decommissioning, subsea and integrated well services.
Lorenzo Simonelli is chairman, president and CEO of BHGE, which maintains dual headquarters in Houston and London. A March 2019 investor presentation states that BHGE's employee headcount is approximately 66,000.
6. BP
In 2018, London-based BP p.l.c. employed 73,000 people in 78 countries and boasted proved reserves just under 20 billion boe. The integrated oil and gas company's Upstream business produced 3.7 million boe per day.
Some of BP's upstream business highlights from last year include acquiring unconventional assets in Texas and Louisiana from BHP, signing a production sharing agreement with SOCAR to explore and develop acreage offshore Azerbaijan, making deals with the governments of Mauritania and Senegal toward developing the offshore Greater Tortue Ahmeyin gas project and adding offshore acreage in Brazil's Santos basin.
U.S. native Bob Dudley has been BP's chief executive since 2010.
1
2
View Full Article
Generated by readers, the comments included herein do not reflect the views and opinions of Rigzone. All comments are subject to editorial review. Off-topic, inappropriate or insulting comments will be removed.