Survey Finds N. America Respondents Bearish on Oil Price Predictions
|
Monday, January 15, 2018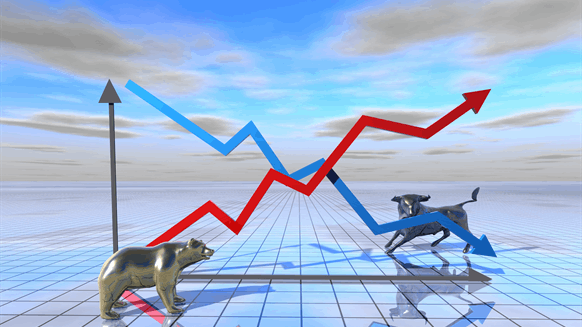 A recent Rigzone survey reveals the outlook of North America respondents.
Rigzone recently released results from its global survey exploring the oil and gas industry outlook for 2018 and almost half (46 percent) of all respondents forecasted that oil prices would reach between $65 and $75 per barrel. And just one month into 2018, the oil and gas industry has already seen the price of Brent crude hit a three-year high of $69.87 per barrel.
However, all respondents weren't as bullish when it came to oil prices. Respondents from North America seem to be split when it came to oil price predictions, with 43.9 percent believing oil would only reach less than $65 per barrel while 43.6 percent believe the high would fall between $65 and $75 per barrel.
OPEC's announcement to extend production restraints through 2018 has led some analysts to believe a market rebalance is on the horizon for the latter part of 2018.
Deloitte's John England, vice chairman, US Energy and Resources leader and US and Americas oil and gas leader, said the market still needs a real demand boost to "get prices moving upward in a meaningful way." Barring OPEC's production cuts, "only a supply shock is likely to move the market significantly, and that's not really how we want to rebalance the market," he said in his 2018 outlook on the oil and gas industry.
Differing Sentiment
While globally, more than one-third of respondents had a hopeful sentiment (38 percent), there was more of a split among North America respondents. One third (33.9 percent) had a "concerned" outlook for the industry and 32.5 percent were "hopeful." Another 23.9 percent were "optimistic" and 9.7 percent were "indifferent."
This seems to align with the cautiously optimistic outlook the industry held in 2017 and is taking into 2018. Several indicators regarding the offshore rig fleet lend itself to the beginning of a true recovery in the second half of 2018 and the price of Brent crude is rising. Yet, question marks still exist surrounding the Trump administration's new tax bill, which cuts corporate rates and has been described by Bloomberg Intelligence analyst as an "America First-type tax plan" favoring oil and gas companies in which most of their business is in the US.
The survey also revealed that North America respondents foresee the most growth opportunities in the upstream sector (42.9 percent), followed by midstream (21.8 percent). Another 18.3 percent felt that no sector would have growth opportunities in 2018 and 17 percent believe downstream would have the most opportunities.
Rigzone conducted its end of year wrap-up and outlook survey using online survey tool SurveyMonkey. The survey was executed via email to Rigzone's member database as well as the company's social media platforms from November 16 through December 1, 2017. It garnered more than 1,000 responses globally. A total of 313 people indicated that they work in North America.
Generated by readers, the comments included herein do not reflect the views and opinions of Rigzone. All comments are subject to editorial review. Off-topic, inappropriate or insulting comments will be removed.