Super Player Eni Makes Discovery Offshore Ghana
by Andreas Exarheas
|
Rigzone Staff
|
Thursday, May 09, 2019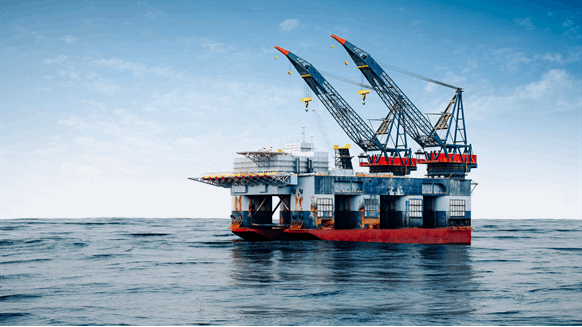 Eni has made a gas and condensate discovery offshore Ghana.
Italian oil and gas company Eni has made a gas and condensate discovery in CTP-Block 4, offshore Ghana.
Exploration well Akoma-1X, drilled on the Akoma exploration prospect, proved an estimated volume of 550-650 billion cubic feet of gas and 18-20 million barrels of condensate, according to Eni, which stated that the discovery has "further additional upside for gas and oil".
Akoma-1X is located approximately 31 miles off the coast and about seven miles north-west from Sankofa hub, where the John Agyekum Kufuor FPSO is located. The well, which reached a total depth of 12,434 feet, is the first well in CTP-Block 4 and represents a discovery of a "potentially commercial nature", according to Eni, "due to its close distance to the existing infrastructures".
The joint venture of CTP-Block 4 is formed by Eni Ghana, which holds a 42.469 percent operated interest, Vitol Upstream Tano, which holds a 33.975 percent stake, GNPC, which has a 10 percent interest, Woodfields Upstream, which has a 9.556 percent stake and Explorco, which has a four percent interest.
Back in March, Eni, through Var Energi, which is jointly owned by the company (69.6 percent) and HitecVision (30.4 percent), announced an oil and gas discovery in the North Sea.
During the same month, Eni also announced a gas discovery in the Nour exploration prospect in the Eastern Egyptian Mediterranean and a "major" oil discovery in Angola's deep water.
Eni describes itself as one of the global oil and gas "super-players". The company operates in 67 countries worldwide and employs more than 30,000 people, according to its website. In its first quarter (1Q) results released last month, Eni reported an adjusted operating profit of $2.63 billion (EUR 2.35 billion).
Generated by readers, the comments included herein do not reflect the views and opinions of Rigzone. All comments are subject to editorial review. Off-topic, inappropriate or insulting comments will be removed.