Suncor Going Autonomous in Oil Sands
by Matthew V. Veazey
|
Rigzone Staff
|
Thursday, February 01, 2018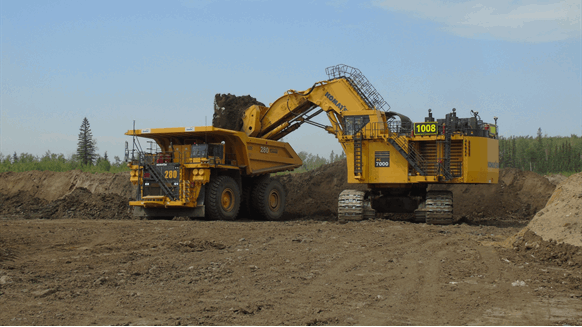 Implementing electric AHS will change some employees' roles, skill sets.
Suncor Energy will implement the first commercial fleet of autonomous haul trucks at the mines it operates in Canada's Oil Sands, the company announced this week.
"Suncor was the first company to transition from bucketwheel to truck and shovel operations in the early 1990s and we're continuing to be on the leading edge of oil sands technologies today," Suncor Chief Operating Officer Mark Little said in a company statement. "To be the very first company to test these systems and implement them at a commercial scale in our oil sands mining operations speaks to our long history of embracing and implementing game changing technologies."
Suncor said that it expects to deploy more than 150 of the Komatsu electric-powered trucks – called autonomous haulage systems (AHS) – over the next six years, beginning with its North Steepbank mine near Fort McMurray, Alberta. The company pointed out the decision, which follows four years of evaluations and technology validation, will be one of the largest investments in electric autonomous vehicles ever.
Compared to existing truck and shovel operations, the AHS rollout will offer better safety performance and operating efficiency and will reduce operating costs, Suncor added. Moreover, the company said AHS use safety features such as prescribed route mapping and obstacle detection systems.
Suncor has been purchasing autonomous-capable trucks and operating them with a driver since 2015 as it retired older trucks from its fleet, company spokesperson Erin Rees told Rigzone. Also, the company stated that AHS implementation will lead to a decrease in heavy operator positions at its Oil Sands Base Plant as early as next year. Suncor added that it is working with its union to develop strategies to minimize workforce impacts, and Rees said that a reduction in positions does not necessarily mean that people will depart the organization.
"We know this implementation will change roles and required skill sets for some of our employees," Rees said. "Training programs are being designed to support employees in transitioning to this new technology … In an AHS operation, many heavy equipment operators are still required to operate other pieces of equipment."
Generated by readers, the comments included herein do not reflect the views and opinions of Rigzone. All comments are subject to editorial review. Off-topic, inappropriate or insulting comments will be removed.
RELATED COMPANIES