SNC-Lavalin Wins UAE Haliba Field Contract
|
Monday, January 20, 2020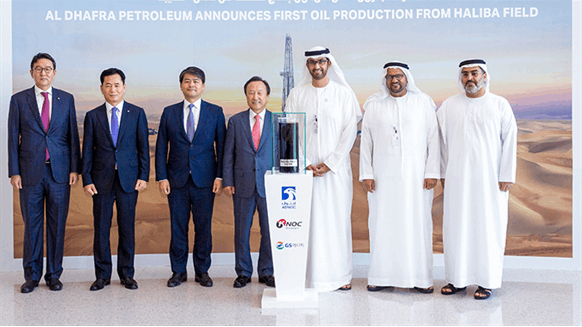 Execs from the Al Dhafra joint venture commemorate first oil from the Haliba field in this ADNOC photo from July 2019. PHOTO SOURCE: ADNOC
SNC-Lavalin reported Monday that it has been selected to provide front-end engineering and design (FEED) services for the second phase of the Haliba field development in Al Dhafra Petroleum's concession area in the United Arab Emirates.
The Al Dhafra joint venture company comprises Abu Dhabi National Oil Co. (ADNOC), Korea National Oil Corp. and GS Energy. The FEED contract term is nine months, SNC-Lavalin noted in a written statement emailed to Rigzone.
"This contract is aligned with our focus to leverage our extensive expertise and experience across our comprehensive spectrum of end-to-end services to our clients," commented Craig Muir, President, Resources at SNC-Lavalin.
According to Canada-based SNC-Lavalin, the Haliba field project aims to develop surface facilities in an optimized manner to handle long-term production and nearby future production prospects. The company noted the contract scope of work includes;
Verifying conceptual studies and design
Carrying out FEED to develop surface facilities needed to process production from the main plant and its north and south extension areas
Execution planning
Designing facilities to handle output from prospects close to Haliba.
"We are committed to delivering the highest quality services to our client and help them achieve their objectives," stated Muir. "Our teams will ensure we bring the technical knowhow, agility and innovative solutions that we are known for to this project."
On July 2, 2019, ADNOC reported that Al Dhafra had achieved first oil from Haliba. At the time, the company stated that production from the field – located in southeastern Abu Dhabi – would ramp up to 40,000 barrels per day (bpd) by year's end. ADNOC added that Al Dhafra was exploring 70 other prospects in its concession area, whose main production hub will be at Haliba. The firm also noted last July that it is working to expand its oil production capacity to 4 million bpd by the end of 2020.
To contact the author, email mveazey@rigzone.com.
Generated by readers, the comments included herein do not reflect the views and opinions of Rigzone. All comments are subject to editorial review. Off-topic, inappropriate or insulting comments will be removed.