Shell Shale Leader Discusses the 'Non-Moonshot'
by Matthew V. Veazey
|
Rigzone Staff
|
Tuesday, October 17, 2017
Collaboration, repurposing tech will help company to achieve 'shale field of the future,' says exec.
Like other major natural gas producers, Shell has a vested interest in ensuring that the fossil fuel remains a key component in the global energy mix – particularly as renewable elements within that mix gain prominence.
"Shale is a future growth engine for Shell," Greg Guidry, executive vice president of Shell's Unconventionals business, told Rigzone on the sidelines of Energy Dialogues LLC's North American Gas Forum earlier this month. "We characterize it as a future growth opportunity because of its long-term growth potential, and we are on path to achieve that strategic intent of being a material, sustainable growth engine for Shell within the next decade."
According to Guidry, ensuring natural gas is seen as a stable, reliable energy source – ideally placed to partner with an ever-increasing share of renewables – will require a certain degree of industry-wide collaboration toward reducing the development costs and environmental footprint necessary to develop a shale field. Regarding elevating natural gas' profile as a lower-carbon energy source, Guidry noted that a partnership between industry and non-governmental organizations (NGO) in Appalachia already provides an effective model.
"At Shell, the example I would provide is the Center for Responsible Shale Development (CRSD)," said Guidry, referring to the Pittsburgh-based organization that defines, updates and monitors environmental performance standards for shale operators.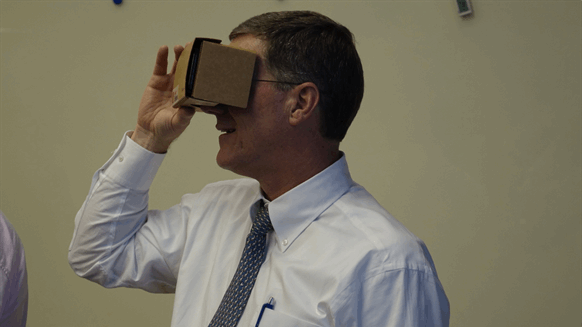 Shell EVP Greg Guidry tests virtual reality technology developed through the company's iShale initiative.
CRSD members include operators such as Shell and Chevron as well as the Environmental Defense Fund (EDF) and other NGOs. Guidry said there's room for more partners in CRSD, which promotes operating practices and standards that go beyond industry and government regulations. In addition, he noted the organization serves as a model for operators in other shale basins and in other industry opportunities for collaboration and stakeholder engagement.
"We'd like to broaden membership and get more operators to join," Guidry said.
On the technological front, rolling out transformative natural gas technologies demands an even broader partnership, said Guidry
"Any breakthrough technology requires a great deal of collaboration, particularly with your supply chain, but also with academic and across industry to establish standards," Guidry explained, adding that Shell's "iShale" initiative provides a case in point.
Calling Shell iShale® the "shale field of the future," Guidry pointed out the endeavor could lead to significant unit cost reductions, depending on successful de-risking of pilots and trials, cutting almost a third of the cost. Moreover, he said that iShale will become a reality in the "not too distant" future because it largely applies existing technologies already used elsewhere in oil and gas and in other industries.
"From a technology risking perspective, it's not that much of a stretch," Guidry said, adding that various programs are at different stages of maturity. "It's more integration of existing technologies and applying them to onshore shale."
According to Shell, desired iShale outcomes include:
Automated and integrated wells and completions
Scalable modular central facilities designs
Intelligent well pads and wireless communications enabling multi-phase flow and separation
Digitization and automation-enabled management by exception or standard field surveillance
An "organization of the future" with "broad skill base" personnel who are digitally connected and cross-trained
"This is not a moonshot," concluded Guidry. "The integration can be considered the biggest challenge but, component to component, there are no moonshots."
Generated by readers, the comments included herein do not reflect the views and opinions of Rigzone. All comments are subject to editorial review. Off-topic, inappropriate or insulting comments will be removed.
RELATED COMPANIES