Shell Hits Milestone at Pennsylvania Site
by Matthew V. Veazey
|
Rigzone Staff
|
Wednesday, October 10, 2018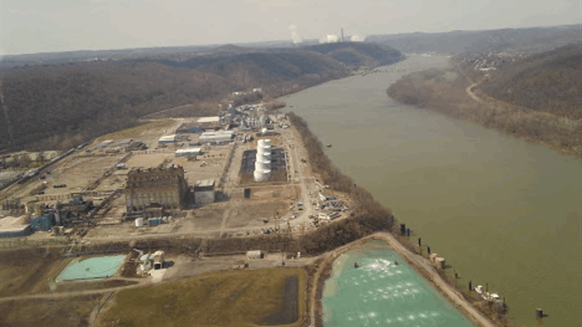 An April 2018 aerial view of Shell's Pennsylvania Petrochemicals Complex construction site in Beaver County, Pa.
The largest piece of equipment at the world-scale petrochemicals facility Shell is building along the Ohio River northwest of Pittsburgh is now in place.
In a statement emailed to Rigzone Wednesday morning, Shell announced that its Shell Chemical Appalachia LLC subsidiary successfully installed the quench tower Oct. 7 at its Pennsylvania Petrochemicals Complex in Monaca, Pa. The company noted that the heavy lift operation represents an important milestone in the project, will use ethane from the Marcellus and Utica basins to produce 1.6 million tonnes of polyethylene (PE) per year.
"Eleven months into main construction, I'm delighted with the progress we're making in Pennsylvania," Graham van't Hoff, executive vice president for Shell's global chemicals business, said in the written statement. "It's great to see our world-class complex taking shape. The project is providing more economic opportunities in Pennsylvania and the region."
The installation of the approximately 87-meter-tall, 2,000-tonne quench tower followed a nearly four-week journey up the Mississippi and Ohio rivers, Shell stated. Upon arrival at the project site, the large quench tower was unloaded onto a specially designed dock and transported down a newly created road, the company added. Water circulating through the quench tower will cool down cracked gas, condense heavy hydrocarbons and remove coke and tar particles, the company explained.
Shell's Pennsylvania complex will comprise four processing units: an ethane cracker and three PE units. Two of the PE units will manufacture high-density PE (HDPE) pellets and the other PE unit will manufacture linear low-density PE (LLDPE) pellets, the company noted.
Since it launched the main construction phase last November, Shell has erected two of the three reactors tied to the complex's planned PE units and has laid approximately 15 miles of underground pipe for cooling, firewater and drainage systems, the company noted. In addition, it stated that the project's workforce currently totals approximately 3,000 – a figure that it expects to double by the end of next year through the construction phase. During operations, slated to start early next decade, the facility reportedly will support approximately 600 onsite jobs.
Shell's Pennsylvania complex will be the company's fourth major petrochemical facility in the United States. The company's existing petrochemical facilities – all on the Gulf Coast – are located in Deer Park, Texas, and Norco and Geismar in Louisiana.
Generated by readers, the comments included herein do not reflect the views and opinions of Rigzone. All comments are subject to editorial review. Off-topic, inappropriate or insulting comments will be removed.
RELATED COMPANIES