Shell FLNG Facility Ships Maiden Cargo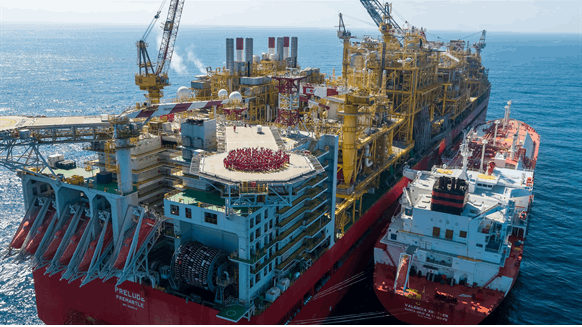 Prelude FLNG personnel wave from the facility's helideck, with the Valencia Knutsen berthed alongside. PHOTO: Shell
The first shipment of liquefied natural gas (LNG) from the Shell-operated Prelude Floating LNG (FLNG) facility offshore Australia has sailed and is destined for customers in Asia, Royal Dutch Shell plc reported Tuesday.
Shell operates Prelude FLNG – located 295 miles (475 kilometers) northeast of Broome, Western Australia – on behalf of joint venture partners INPEX Corp., Korea Gas Corp. (KOGAS) and CPC Corp. unit Overseas Petroleum and Investment Corp. (OPIC). The Spanish-flagged LNG carrier Valencia Knutsen is transporting the maiden cargo. According to the website MarineTraffic.com, the ship departed Prelude shortly after 11 p.m. local time Monday.
"Prelude forms an integral part of our global portfolio and plays an important role in meeting the growing demand for more and cleaner energy for our customers around the world," Maarten Wetselaar, director of Shell's Integrated Gas and New Energies business, said in a written statement emailed to Rigzone.
According to Shell, Prelude FLNG can produce 3.6 million tonnes per annum (mtpa) of LNG, 1.3 mtpa of condensate and 0.4 mtpa of liquefied petroleum gas (LPG). An Oct. 2017 fact sheet published by the company, which owns a 67.5-percent interest in the facility, states that Prelude LNG's dimensions of 1,601 feet (488 meters) long by 243 feet (74 meters wide make it the largest offshore floating facility ever built. INPEX, KOGAS and OPIC own 17.5-percent, 10-percent and five-percent stakes, respectively.
"Prelude FLNG combines human endeavor and ingenuity from across the globe and here in Australia," concluded Shell Australia Chairman Zoe Yujnovich. "We are proud to work with our local communities, suppliers and partners to ensure its safe, reliable operations into the future."
Construction on Prelude FLNG began in Oct. 2012.
Generated by readers, the comments included herein do not reflect the views and opinions of Rigzone. All comments are subject to editorial review. Off-topic, inappropriate or insulting comments will be removed.