Security, Skills Shortage Among Challenges to IIoT in Oil and Gas
|
Friday, September 28, 2018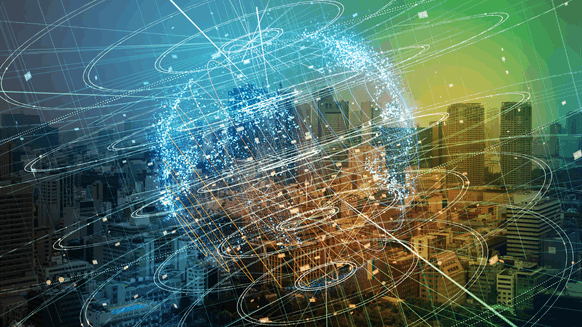 New analysis by Inmarsat reveal some of the biggest challenges keeping oil and gas companies from fully deploying IIoT.
In today's energy transformation, machine learning and digitalization have had a profound effect on oil and gas, but there are still some roadblocks to full deployment of the Industrial Internet of Things (IIoT).
2018 research by global mobile satellite company Inmarsat examined some of these challenges among energy companies, which Inmarsat denotes as crude oil extraction (drilling rigs), crude oil distribution (pipelines) and crude oil processing (refineries). Inmarsat looked at six key areas from 125 energy companies surveyed. Findings in each area are below.
Adoption
Inmarsat noted the energy sector is "making solid progress" regarding its adoption of IIoT. Forty-four percent of energy companies have deployed IIoT solutions to some extent – however, 84 percent are still in the trial phase. By the end of 2019 though, 90 percent expect to have fully deployed IIoT solutions.
Distribution companies are further along in their IIoT deployment than extraction companies, Inmarsat notes. Improving resource efficiency was the main driver for IIoT deployment among energy distribution companies, while monitoring environmental changes was the main driver for extraction companies and improving health and safety was the top driver among exploration companies.
Security
While 48 percent of energy companies cited the risk of external cyberattacks as a challenge, 46 percent cite the potential for IIoT data to be misused by employees and 42 percent were concerned by the security of their networks.
Companies are aware of the threat of security breaches. Seventy-four percent agreed or strongly agreed they should be doing more to increase their protection against cyberattacks. And 43 percent responded that they had upgraded their security technologies.
Connectivity and IIoT Technologies
Reliable connectivity wasn't deemed a big challenge for most companies in reaching their IIoT initiatives. About one quarter of respondents said connectivity was one of their biggest challenges around IIoT deployment; 32 percent said connectivity issues could hold them back.
Extraction companies seemed to struggle more with reliable connectivity acting as hindrance to IIoT, while exploration and distribution companies fared better. Forty-three percent of extraction companies cited connectivity as their biggest IIoT challenge. Conversely, just 14 percent of distribution companies thought the same.
Skills
About one-third (34 percent) of respondents said a lack of skills was one of the biggest barriers they encountered in the adoption of IIoT solutions. Respondents in distribution and extraction sectors cited skills shortages in all areas of IIoT deployments. But there were pronounced differences in the type of skills needed. For example, 56 percent of distribution companies need additional data science skills while only 4 percent of extraction companies felt the same.
Inmarsat also noted the decline in necessary skills can be attributed in part to the job losses suffered recently during the oil and gas industry downturn.
Data
Inmarsat found that 57 percent of distribution companies expect to use the data generated by their IIoT solutions to monitor and improve productivity and 53 percent plan to use it to identify cost-saving opportunities. Thirty-eight percent of extraction companies are concerned with the opportunity to use IIoT data to better monitor environmental changes and 43 percent would use it to improve health and safety.
Aside from that, 10 percent of energy respondents – 17 percent of those from exploration companies – have no plans to use their data at all.
Investment and ROI
Energy companies are considered "progressive" on average compared with other industries when it comes to planned investment in IIoT-based solutions. Overall, energy respondents expect to invest an average of $4 million in IIoT initiatives for the next three years – just nine percent of their overall IT budgets.
Digging deeper into subsectors, distribution companies expect to use 12 percent of their IT budgets to IIoT over the next three years, twice as much as both exploration and extraction companies (6 percent each).
Generated by readers, the comments included herein do not reflect the views and opinions of Rigzone. All comments are subject to editorial review. Off-topic, inappropriate or insulting comments will be removed.