SBM Offshore Blazes Trail With FPSO Design
|
Monday, December 23, 2019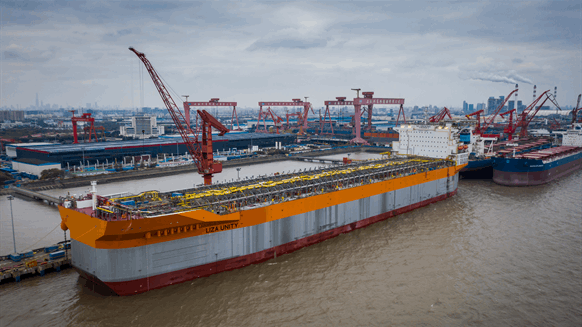 The Liza Unity is a new build and SBM Offshore's first MPF hull ever built for the Fast4Ward program. It's set to leave the SWS shipyard in January 2020. (PHOTO Source: SBM Offshore)
SBM Offshore is confident it has formulated the perfect recipe for designing, constructing and operating floating, production, storage and offloading (FPSO) vessels.
Through its Fast4Ward approach, SBM uses a generic design for its new-build multipurpose floater (MPF) hulls combined with topsides, mooring and vessel catalogues.
Essentially, the company promises clients a faster, cheaper and safer gateway to achieve first oil.
The MPF hulls, which are built ahead of projects, boast up to 2.3 million barrels of storage as well as production capability of up to 250,000 barrels of oil per day. SBM said the MPF design is flexible enough to be tailored to fit specific project needs.
So far, the approach has been successful.
The Liza Unity is a new build and SBM Offshore's first MPF hull ever built for the Fast4Ward program and Exxon Mobil Corp. will deploy it offshore Guyana.
SBM is currently constructing five FPSO hulls simultaneously – the Liza Unity being one of them – at two Chinese shipyards, Shanghai Waigaoqiao Shipbuilding (SWS) and China Merchants Industry Holdings (CMIH).
Earlier this month, Rigzone visited these shipyards with SBM to tour three hulls at various stages of construction. SBM recently inked contracts for its fourth and fifth hulls, which will likely be deployed for work offshore Guyana and Brazil.
"This is historic," SBM's managing director Bernard van Leggelo said. "We're the first to do this … plus we have years of experience."
He went on to say that SBM was tapping into the experience it built upon constructing the Liza Destiny FPSO (converted from a VLCC and deployed offshore Guyana) and is constantly making improvements to its Fast4Ward concept.
With a presence in China dating back to 1973, SBM is focused on more growth in the region.
The company said it aims to qualify up to 250 Chinese vendors by 2021 and expects to have 80 vendors by year-end 2019.
"The MPFs have a large volume of work in steel and welding, which is a big strength of China," Srdjan Cenic, SBM's general manager for China, told Rigzone.
He added that SBM has many projects in China and recruits to employ locals on these projects.
1
2
View Full Article
Generated by readers, the comments included herein do not reflect the views and opinions of Rigzone. All comments are subject to editorial review. Off-topic, inappropriate or insulting comments will be removed.